Wolftech pulsecard - PCIe 3.0 x4 Adapter for PCIe M.2 SSDs - Same as Angelbird PX1 but without LEDs. Produced by Angelbird for Wolftech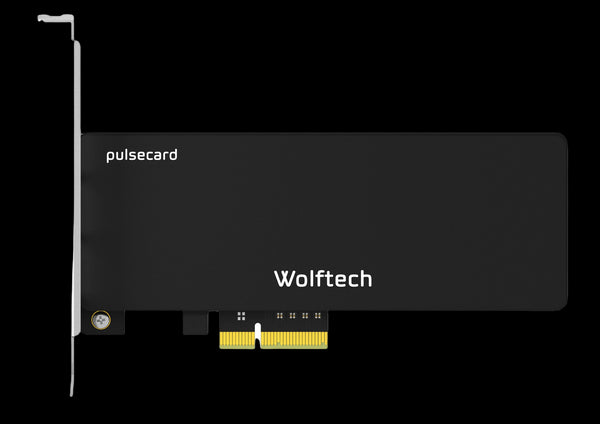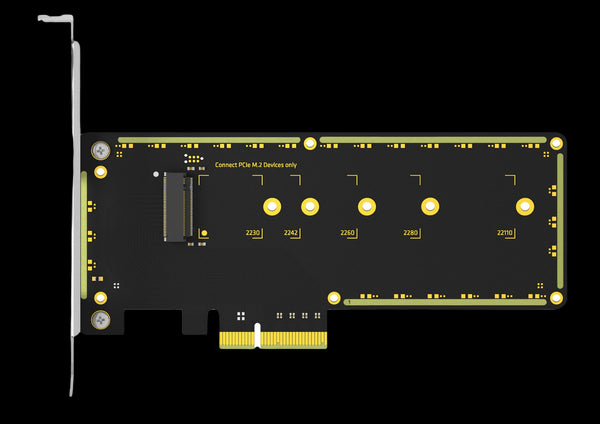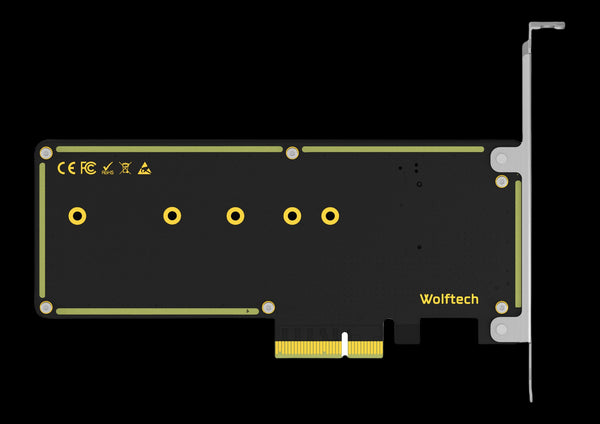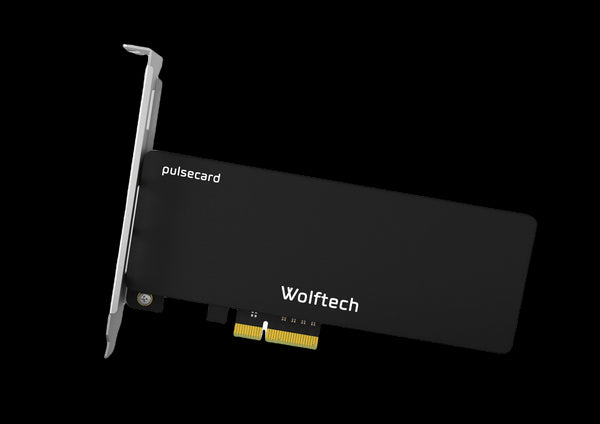 The Wolftech pulsecard is a PCIe 3.0 x4 adapter for PCIe M.2 SSDs which allows you to unleash the incredible speed of the latest AHCI & NVMe SSDs.
The Wolftech pulsecard allows you to install any M.2 NGFF type 2230, 2242, 2260, 2280, 22110 SSD. It easily plugs into your your PCIe 3.0 (2.0 and 1.0 backwards compatible) x4, x8, or x16 slot in your computer or external PCIe Card enclosure.
The pulsecard is transparent to the operating system and no drivers are required. It works with Windows, OSX, Linux and just about everything else.
NOTE: Classic Mac Pro supports only AHCI PCIe SSDs for booting. However, Mac Pro 5.1 can be made NVMe bootable with the firmware updates and OSX 10.13 and 10.14
Supports PCIe 1.0 ,PCIe 2.0 and PCIe 3.0 motherboards
Supports M.2 NGFF type 2230, 2242, 2260, 2280, 22110 SSD
Low-profile, half-length PCB Form Factor
Big heatsink to protect SSD from heat and physical damage
Outperforms cheap m.2 PCIe SSD card mounts
Easy-to-install, robust & EU Built
Thermal throttling prevention
Full signal integrity with length- and phase-matched data traces
EMI and HF shielding
Power stabilisation
CNC-worked aluminium heatsink
Maximum CopperTM for optimal thermal dissipation
Fits M.2 NGFF

Type 2230, 2242, 2260, 2280, 22110 SSD

PCI Express Compatability

Gen3 x4. Backwards compatible with PCI Express Gen2 and Gen1.

Features

Full Signal integration with length and phase-matched data traces.
Utilises Maximum Copper for optimal heat dissipation.
EMI, HF, Ground Shielding. Thermal Throttling Prevention.
CNC worked matt black heatsink for efficient heat dissipation.

Weight

120g

Dimensions

Low-profile, half-length PCB measuring 157 x 69 x 8 mm

Certifications

CE, FCC & RoHS

AHCI Compatible SSD's

KINGSTON:

Hyper X Predator - 240GB, 480GB, 960GB

PLEXTOR:

M6e - 128GB, 256GB, 512GB

SAMSUNG:

XP941 - 128GB, 256GB, 512GB
SM951 - 128GB, 256GB, 512GB

NVME Compatible SSD's

ADATA:

XPG SX8000 - 128GB, 256GB, 512GB, 1024GB

INTEL:

SSD 600p - 128GB, 256GB, 512GB, 1024GB
SSD pro 600p - 128GB, 256GB, 512GB, 1024GB

PLEXTOR:

M8PeGN - 128GB, 256GB, 512GB, 1024GB

SAMSUNG:

PM961 - 128GB, 256GB, 512GB, 1024GB
PM963 - 960GB, 1920GB
XP941 - 128GB, 256GB, 512GB
SM950 Pro - 256GB, 512GB
SM951 - 128GB, 256GB, 512GB
SM960 Pro - 512GB, 1024GB, 2048GB
SM960 EVO - 250GB, 500GB, 1000GB
SM961 - 128GB, 256GB, 512GB, 1024GB

TOSHIBA:

OCZ RD400 - 128GB, 256GB, 512GB, 1024GB
XG3 Series
Black - 256GB, 512GB
Wolftech pulsecard PCIe Card
Low-profile PCIe bracket
Precision Torx 6 screwdriver
Screw & Spacer kit
Thermal Pad
Installation Manual