OWC ThunderBay 4 Enclosure RAID Edition (Thunderbolt 3 Model) with four 3.5" Drive Bays, Dual Thunderbolt 3 Ports and SoftRAID XT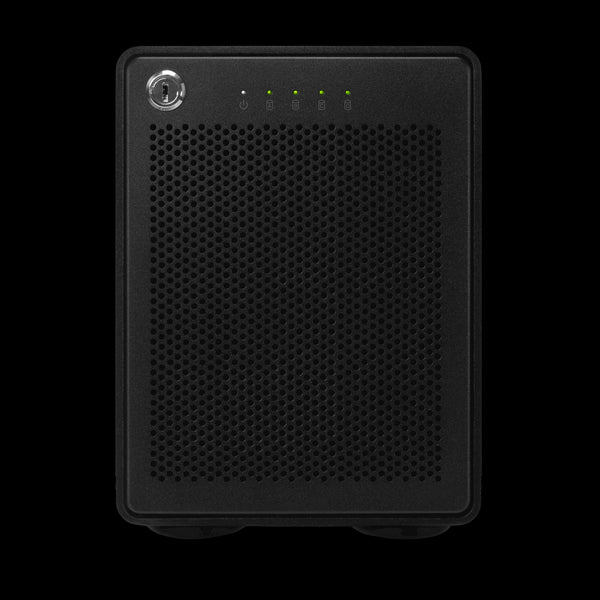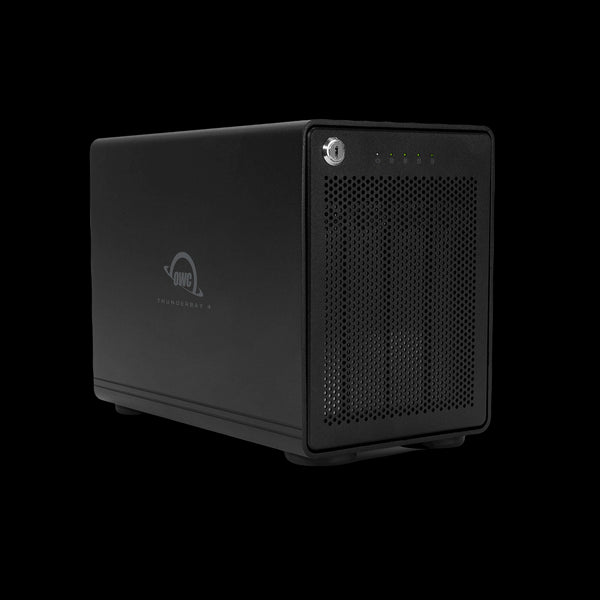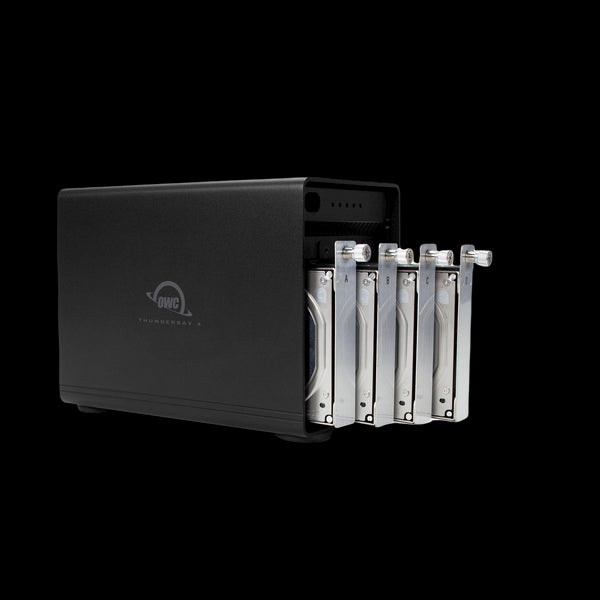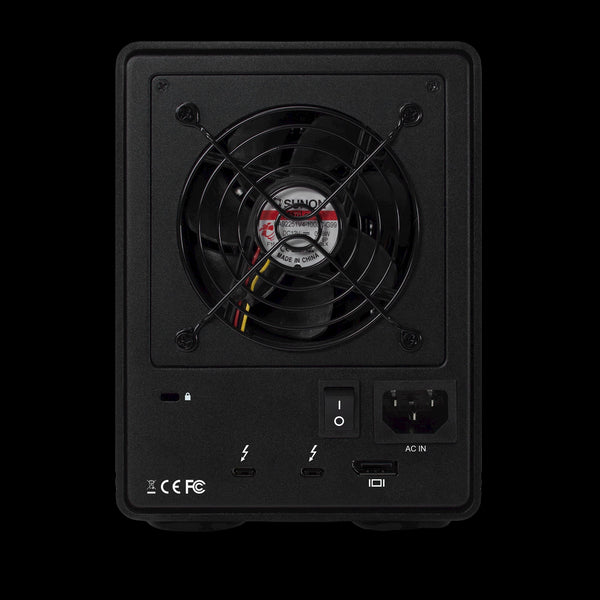 OWC ThunderBay 4 RAID 4-Bay Storage Enclosure with Dual Thunderbolt 3 Ports
ThunderBay 4, OWC's flagship 4-bay RAID ready powerhouse is bigger and faster than ever before. Now with the unbelievable performance of Thunderbolt 3 — up to 1527MB/s sustained performance— it's the ultimate workhorse external storage solution.
Not only faster, the new ThunderBay 4 Thunderbolt 3 is now natively compatible with both 2.5" and 3.5" drives, and with a redesigned chassis, it's even cooler and quieter too.
Designed with performance in mind and engineered to harness the power of Thunderbolt 3, ThunderBay 4 is an incredibly flexible external solution with the throughput to support multi-stream compressed 4K video and other bandwidth-intensive operations.
Highly configurable to perfectly match your performance needs. Use each drive independently, or in the RAID configuration of your choice for the optimal balance of performance and data-redundancy. Get the most out of your storage, take the brakes off your workflow, and do more with a ThunderBay 4.
Experience the most advanced software RAID available with the ThunderBay 4 RAID 5 Edition. Empower your workflow with up to 35% faster RAID 5 performance and exponentially faster rebuild times than comparable hardware RAID arrays.
Buyers note: RAID 4/5/1+0 (10) are currently Mac only. Only RAID 0 and RAID 1 are supported by Windows 10/PC.
Dedicated DisplayPort 1.2 port
Up to 1527MB/s sustained performance
Works with 3.5" or 2.5" drives — no adapter needed
User configurable in RAID 0, 1, 4, 5 & 1+0
Ultra quiet, heat dissipating aluminum chassis
Rigorously pre-tested with multi-hour burn-in
Intelligent drive monitoring with desktop and email notifications
Compatible with the devices listed below.
Software Requirements

macOS 10.12 or later
Windows 10 or later (Only Raid 1 and 0)

Hardware Requirements

Mac or PC featuring Thunderbolt 3 interface
Mac or PC featuring Thunderbolt or Thunderbolt 2 interface

Interface (Chipset)

2 x Thunderbolt 3 (Intel DSL6540)
1 x DisplayPort

Max Transfer Rate

Thunderbolt 3: 40 Gb/s (5000 MB/s)

JBOD / RAID Support

JBOD: Utilize each of the four drives independently
RAID: Use the included SoftRAID software RAID to setup the ThunderBay 4 for RAID 0, 1, 4, 5, and 10

Drives Supported

4 x 3.5" SATA 6Gb/s drives (or)
4 x 2.5" SATA 6Gb/s drives

SATA revision 3.0 (6Gb/s) compliant
Compatible with SATA revisions 2.0
(3Gb/s) and 1.0 (1.5Gb/s)

Kensington Lock Slot

Yes

LED

Yes (Power and disk activity)

Plug and Play

Yes

Power Supply

AC input: 100 - 230V

Dimensions

Height: 7.0 in (177 mm)
Width: 5.3 in (135 mm)
Length: 9.6 in (245 mm)

Weight

3.9 kg (8.6 lbs)
OWC ThunderBay 4 high performance hard drive enclosure with Thunderbolt 3
2.0 meter (79 in) Thunderbolt 3 cable
External power cable
2 Security Keys
ThunderBay 4 Quick Start Guide
SoftRAID XT
SoftRAID XT Quick Start Guide
1 Year OWC Limited Warranty