OWC USB-C to Dual HDMI 4K Display Adapter with DisplayLink for Apple M1 Mac or any Mac or PC with USB-C or Thunderbolt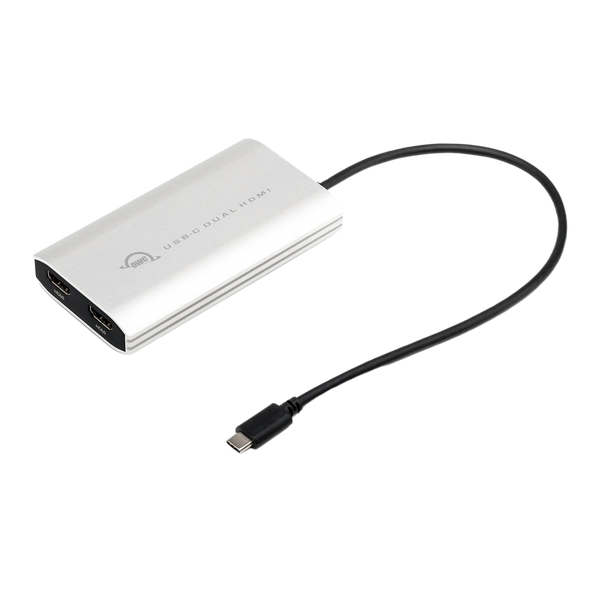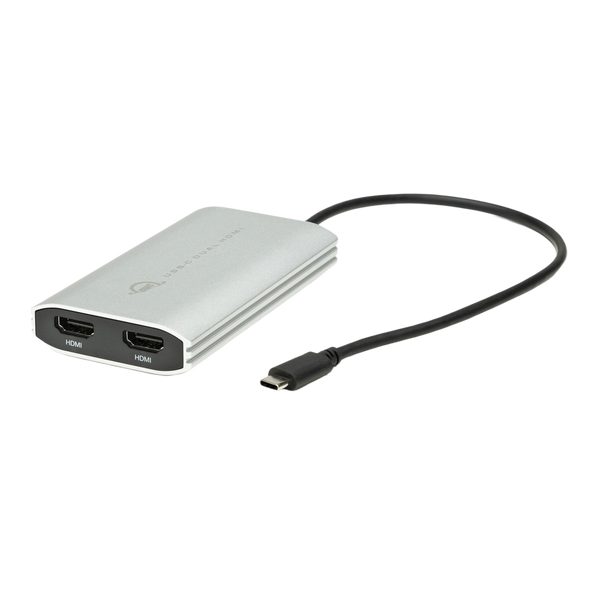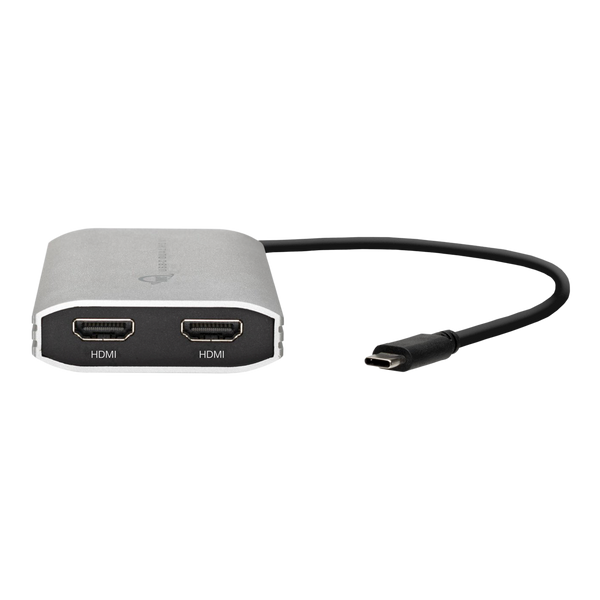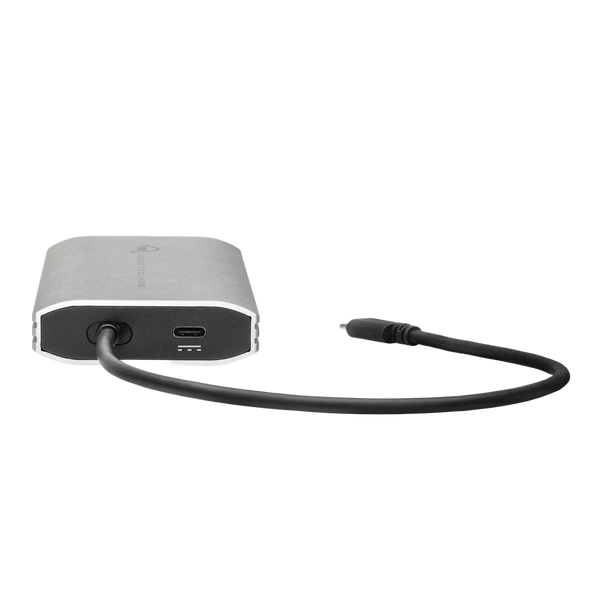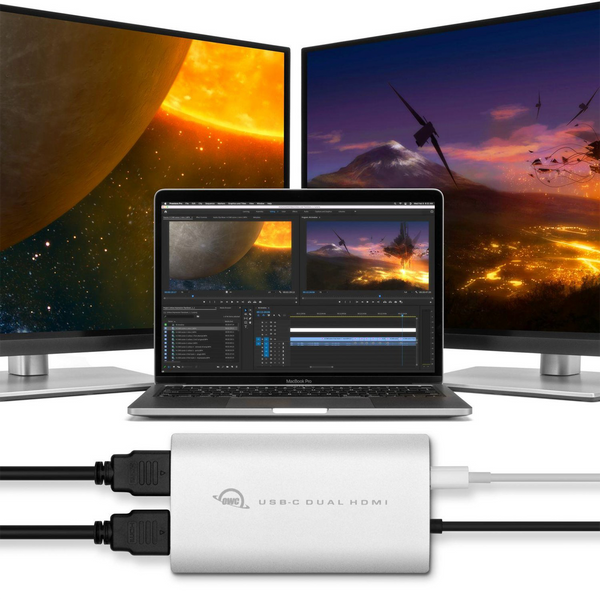 OWC Display Adapter
Expand your digital window and bask in the light of dual HDMI 4K displays with any USB-C or Thunderbolt equipped Mac and PC. The OWC USB-C Dual HDMI Adapter with DisplayLink is your pixel multiplying maven. It's ideal for all Apple M1 Silicon Macs – like the 13-inch MacBook Pro, MacBook Air, 24-inch iMac, and Mac mini – that frustratingly limit you to one USB-C external display.
Display-It-All + Power-It-Up
With its compact travel-friendly size and bus-powered convenience, you'll always be ready to wow an audience or a team with your newfound multi-display capability. No longer will you have to choose between power and dual displays, or take up a second USB-C port to charge your laptop — this handy little adapter features a power pass-thru port. Simply plug in your laptop's USB-C power adapter to keep the electrons flowing.
Planetary Exploration Encouraged
Take dual-display capability wherever you may roam, be it on the other side of the world, living the BYOD (Bring Your Own Device) life with clients, or nestled into your creative workspace dreaming up your next. About the size and weight of a compact smartphone, the OWC USB-C Dual HDMI Adapter hides away in bags, pockets, and camera packs, and tucks neatly out-of-sight at your workstation. Wherever your adventures take you, plugging dual displays into your Mac or PC doesn't get any easier.
Pro Maestros
For pros, it's all about the workflows to gain that competitive advantage. When you become a pixel-pushing dual-display maestro, everything just gets more efficient. From working all-at-once in multiple programs like Photoshop, Final Cut, DaVinci Resolve, Logic Pro, Sketch, and Affinity Photo, to viewing all your Internet "research" – Calvin and Hobbes micro-breaks are part of well-balanced workflow, right? – you'll be project-hopping, app-swapping, and producing with greater ease than any single-display workflow can achieve. And when it comes time to share all your awesomeness, what better way to collab with your team than having a vast digital window to showcase it all? You'll have room-a-plenty to riff ideas, travel multiple paths, and expand on your concepts with ease.
Influencers
Expand your followers with more digital space to edit, find, and respond to content, comments, mega fans, and if you must… trolls. Not the ones that live under bridges and in caves, the much-much worse online variety. Keep tabs on ever-important social media vitals to keep the posts, reposts, views, and likes flowing. All that extra display space expands a new world of content creation workflows so nothing will hold you back from enrapturing your audience with stunning videos, photos, and content. After all, when you're living the social life, you deserve the display capability to match.
Next-Level Learning
You may be light on desk space, but you don't need to be short on pixels. Go next-level on learning with expansive digital real estate to dive so deep into lessons that you'll need to wear flippers. Take detailed notes which no ink and paper could keep up. Immerse yourself in the details and subtleties of videos and imagery only large displays provide. And make all the pirates jealous with your treasure trove of research docs.
4… 3… 2… 1…
Launch your digital display capability into the stratosphere. Analyse multiple data sets for intensive research projects. Create a lasting impact with digital display signage at an event, in your store, or restaurant. Or give a dull lobby a punch of pixels with a welcoming digital showcase of your company's accomplishments. It's easy to enhance your digital window to the world by utilising a single OWC USB-C Dual HDMI Adapter for a dual display experience. Or connect an additional OWC USB-C Dual HDMI Adapter to your Mac or PC to really push the pixels with three or four displays of glorious digital real estate.
Suddenly… You Have More Time
Take advantage of expansive dual-display capability to realise productivity gains up to 35%. With all that extra time, you could take your kids to that new neighbourhood park they've been begging you for the last few weeks. Take the dog for a well-deserved frolic on the town. Or sit down to enjoy the mental benefits of mindful meditation listening to your favourite tunes. Or heck, take all that extra time from utilising dual displays to explore your design more, push the envelope on your photography, hone your storytelling, connect-the-dots with your mad number crunching capabilities, or run more security ops. After all, it's up to you on how you'll take advantage of all that newfound time. 
Solution: easily solves the one external display limitation of Apple silicon M1 Macs
Expansive: connect two HDMI displays up to 4K to a single Thunderbolt or USB-C port on any Mac or Windows PC computer for up to four total external displays
Flexible: choose either extended or mirror display modes
Convenient: bus powered via integrated 13-inch USB-C cable for use anywhere
Comprehensive: certified pass-through power delivery so you can fully power/charge your M1 MacBook Pro or MacBook Air and run dual displays all through a single port
Portable: about the size and weight of a compact smartphone
Complete: one easy, affordable solution vs costly hassle of multiple adapters and cables
HDMI pass through support: allows audio signals to pass through the adapter to the connected displays
Compatible with the devices listed below.
Display Support

Up to two 4K displays @ 60Hz

Display Support By Port

HDMI 2.0: Up to 4K @ 60Hz

Chipset

Certifications

Resolution

Single and dual displays up to 4K @ 60Hz (3840 x 2160)

Refresh Rate

REACH Certification

REACH Certification

Mac OS Compatibility

macOS 10.15 Catalina
macOS 11.x Big Sur
macOS 12.x Monterey

PC OS Compatibility

Windows 10 32-bit edition
Windows 10 64-bit edition
Windows 7 64-bit edition
Windows 8.1 64-bit edition
Windows 8.1 32-bit edition
Windows 7 32-bit edition

Mobile OS Compatibility

Android 10.x
Android 11.x
Android 12.x

Other Compatibility

Chrome OS
Ubuntu 20.04 or later

Other Requirements

Any Mac, PC, Chromebook, tablet, or phone with a USB-C or Thunderbolt (USB-C) port
Display Link driver required for use with Mac and Windows

Power Supply

Cable Length

Input Connection

Output Connection

2 x HDMI
HDMI pass through is supported allowing audio signals to pass through the adapter to the connected displays

Dimensions

H: 20 x L: 115 x W: 62 mm

Weight
1 x OWC USB-C to Dual HDMI 4K Display Adapter
1 x Quick Start Guide