OWC ThunderBay 4 Enclosure (Thunderbolt 2 Model) with four 3.5" Drive Bays & Dual Thunderbolt 2 Ports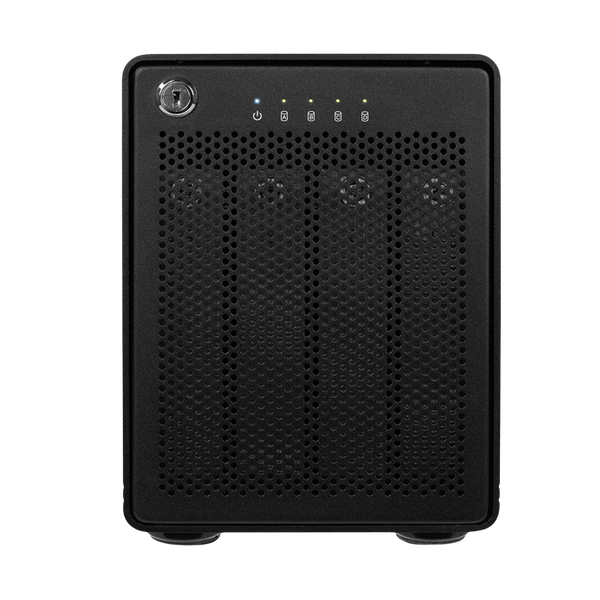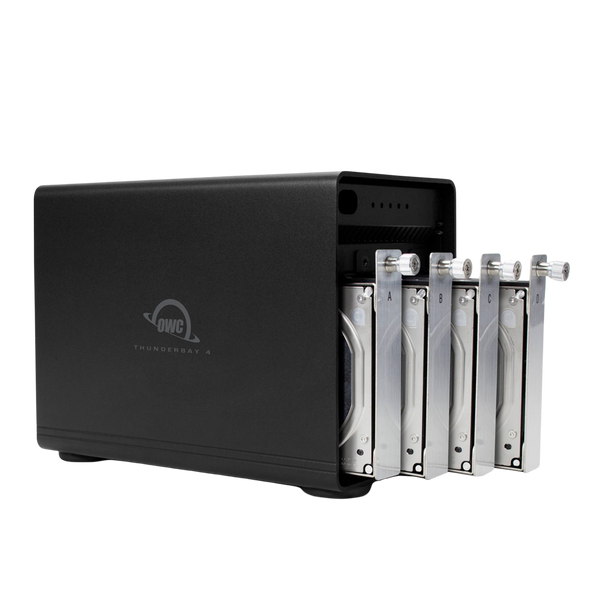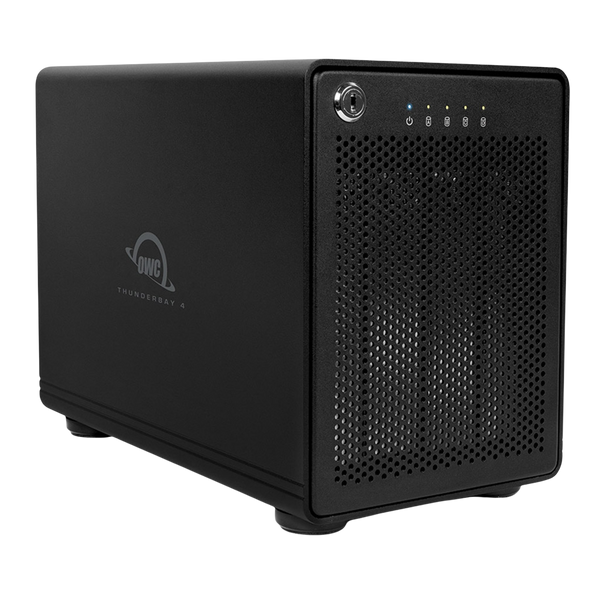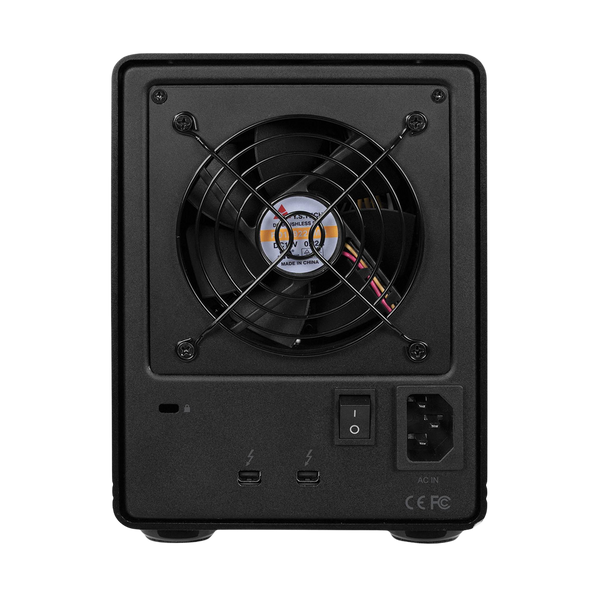 OWC ThunderBay 4 Enclosure (Thunderbolt 2 Model) with four 3.5" Drive Bays & Dual Thunderbolt 2 Ports
Empower your creative production workflow with this super-fast, 4-Bay, RAID-ready drive with dual Thunderbolt ports. Add vast amounts of high-performance storage with ThunderBay 4. Utilize each of the four internal drives independently, or use the software RAID of your choice to setup a multi-drive array for high-performance or data-redundancy.
Edit, Experiment, Create, Design
With ThunderBay's performance capabilities you can complete projects faster, have more time to experiment, and push your creations to the next level.Enhance editing capabilities in video apps like Apple Final Cut Pro, Adobe Premiere, and Avid Media Composer. Empower greater audio production capabilities in audio apps like Avid Pro Tools and Logic Pro X. Edit large photos in apps like Adobe Photoshop, and browse large photo libraries in apps like Apple Aperture and Adobe Lightroom. Simply put, you can do more with a ThunderBay 4 enhanced workflow, and with a RAID 5 array you get data redundancy on top of great performance!
Certified and Tested
Each ThunderBay undergoes OWC's multi-hour drive "burn-in" performance certification procedure prior to shipping. This ensures your ThunderBay arrives operating properly and ready for demanding use.
Time-tested Cooling
Built on OWC's time-tested enclosure cooling technology, ThunderBay 4 utilizes an open "flow-thru" vented design with an oversized 92 mm, low-turbulence, noise-quieting fan to keep the drives running cool and reliably.
Multi-Drive
Daisy-chain up to six ThunderBay 4s for massive storage capabilities and increased performance, or connect multiple ThunderBay 4s to multiple Thunderbolt 3 ports to achieve exponential speed capabilities.
Vibration Dampened
ThunderBay 4's drive isolating design reduces sonic resonance, and is aided by over-sized, rugged, vibration-absorbing, non-skid feet.
DisplayPort 1.2 Support
Dual Thunderbolt 3 ports let you connect the display of your choice that your computer can support, including 4K displays.
Four hot-swappable universal drive bays: mix or match 2.5-inch (no adapter needed) and 3.5-inch HDDs and SSDs
Incredible Thunderbolt 2 performance
Up to 859MB/s read / 838MB/s write
Plug and play RAID-ready
Compatible with the devices listed below.
Mechanisms Supported

Four (4) 2.5-inch or 3.5-inch SATA drives

Chipset

Thunderbolt 2

Drive Interface

SATA

Data Transfer Rate (Maximum)

Thunderbolt 2 : 20 Gb/s (or 2500 MB/s)

Reach Certification

Yes

RAID Capable

Yes

RAID Levels Supported

JBOD

RAID Features

Software RAID

MTBF (Mean Time Between Failures)

Varies depending on drive mechanism installed

Contact Start Stops

Varies depending on drive mechanism installed

Mac OS Compatibility

Mac OS X 10.6 Snow Leopard and above

PC OS Compatibility

Windows 7 32-bit Edition and above

Power Supply

Internal UL-listed universal auto-switching power supply

External Power Adapter

No

Number of Bays

4

Device Ports

(2) Thunderbolt 2 Ports

Cooling

(1) 92mm cooling fan

Housing Material

Aluminium

Dimensions

H: 17.7 cm x L: 24.5 cm x W: 13.5 cm

Weight

3.9kg
1 x OWC ThunderBay 4 hard drive enclosure
1 x Thunderbolt 3 cable
1 x UL-certified 3-prong power cable 1 x keys for front panel lock
1 x ThunderBay 4 Quick Start Guide