OWC Data Doubler Optical Bay Hard Drive/SSD Mounting Solution (for Mac Mini 2010)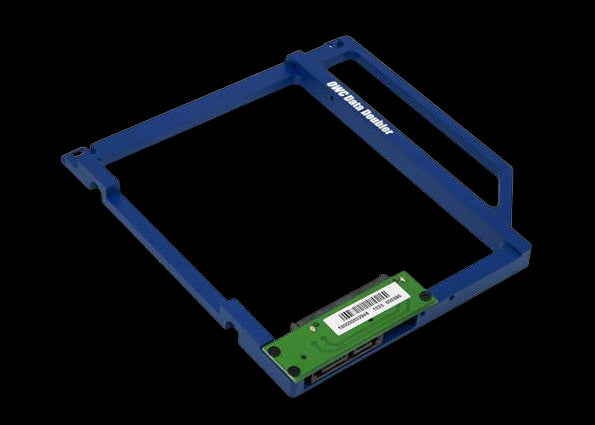 Mac mini 2010 Optical Bay Hard Drive/SSD Mounting Solution
Boost your storage capacity by adding a second hard drive, or enjoy near-instantaneous boot and app loading times by adding a Solid State Drive (SSD).
Configuration flexibility is yours when you replace your 2010 Mac mini's internal SuperDrive with an OWC Data Doubler with a hard drive or SSD. The custom-engineered Data Doubler bracket comes ready to mount any 2.5" SATA drive up to 12.5mm in height.
Once you've installed the entire Data Doubler drive assembly into your 2010 Mac mini's optical drive bay, you can customize how you want your internal storage to perform. Drive customization is easy and built right into OS X as the new Data Doubler mounted drive can be setup using Apple's Disk Utility program in which you can format the drive, create a RAID array using two drives together, or partition the new drive. Once formatted you can also setup the second drive as a Time Machine backup so you can take your backup with your wherever you go.
Download product data sheet
Creating an individual volume with its own desktop icon
Combining a new drive with the existing internal drive for one larger volume (SPAN)
Combining a new matching drive with existing internal for high-performance RAID-0 Stripe volume
Configuring a new drive as a Time Machine backup drive
Formatting one drive for the Mac OS and the other dedicated for Windows.
A Closer Look at the OWC Data Doubler
Compatible with the devices listed below.
Supports

SATA 6Gb/s, 3Gb/s & 1.5Gb/s Interface 2.5" Drive or SSD (Solid State Drive) of up to 9.5mm (Super Slim) height
OWC Data Doubler Bracket
Logic Board Removal Tool
2 x Phillips Screws
Toolkit includes everything you need to open your Mac and install the Data Doubler.
Detailed Installation Guide