OWC 56TB ThunderBay 4 RAID 5 Enterprise Class with Dual Thunderbolt 2 Ports and SoftRAID XT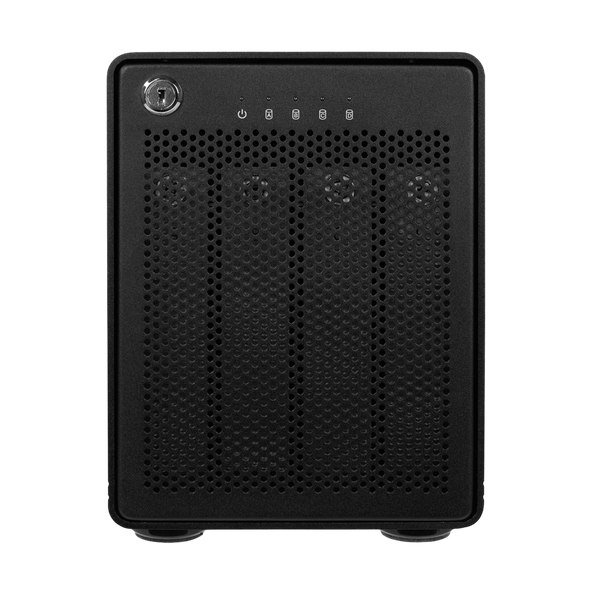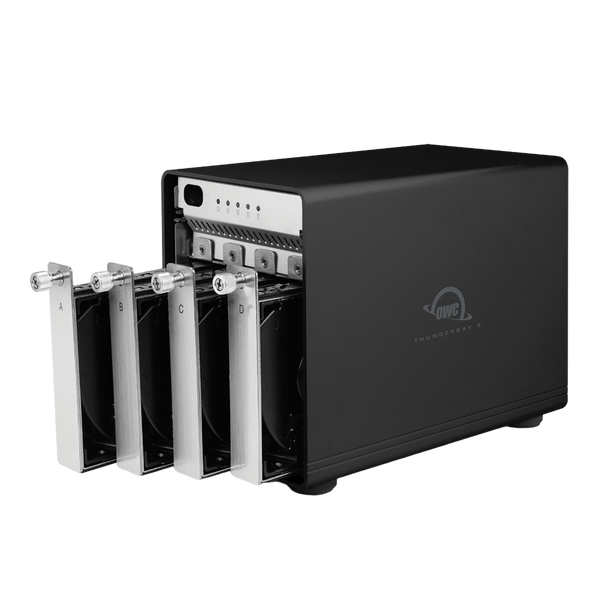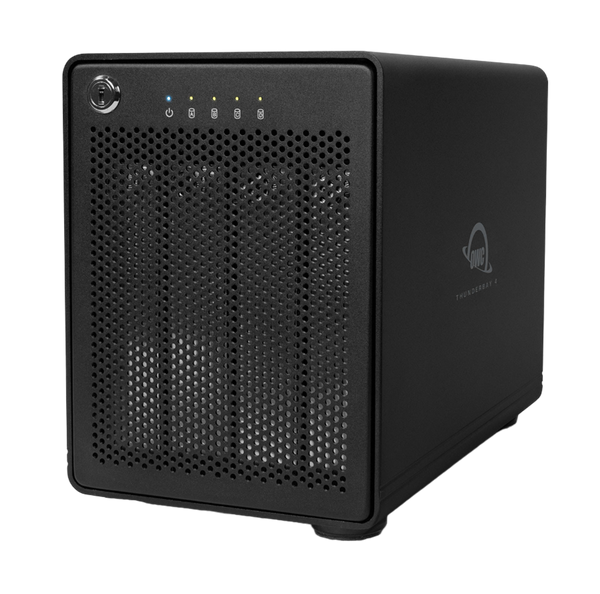 OWC ThunderBay 4 HDD Storage Solution
With ThunderBay's performance capabilities you can complete projects faster, have more time to experiment, and push your creations to the next level. Edit, view, stream, and produce more with ThunderBay in your 2K, 4K, and audio production workflow. Enhance editing capabilities in video apps like Apple Final Cut Pro, Adobe Premiere, and Avid Media Composer. Empower greater audio production capabilities in audio apps like Avid Pro Tools and Logic Pro X. Edit large photos in apps like Adobe Photoshop, and browse large photo libraries in apps like Apple Aperture and Adobe Lightroom. Simply put, you can do more with a ThunderBay 4 enhanced workflow, and with a RAID 5 array you get data redundancy on top of great performance!
Includes SoftRAID XT: Easy And Complete Drive Management
SoftRAID XT is the most powerful, intuitive software RAID utility on the market. Multiple RAID levels let you select the RAID level that fits you or your project's needs best. If you need maximum volume capacity, optimum drive performance, data protection, or a combination of attributes, SoftRAID has you covered. Packed with features like drive validation, verification and failure prediction—SoftRAID includes features you simply don't get with hardware RAID. It's like having a datacenter on your desktop! From home users looking to protect photos and documents to professionals needing to protect and quickly access projects, SoftRAID is the perfect solution.
Compatible: Works with macOS 11 Big Sur, M1 Macs and Windows 10
Advanced: Create RAID 0/1/4/5/1+0 (10) with Macs, RAID 0/1 with Windows machines
Protected: SoftRAID Monitor constantly watches your disks and alerts you if problems are detected
Validated: Volume validation ensures sectors can be read and parity is correct
Certified: Checks disks before use to ensure they are safe for data storage
Vigilant: Error prediction helps protect against unexpected failure
Universal: Move SoftRAID arrays seamlessly between Macs and PCs with built-in OWC MacDrive technology
SoftRAID provides a level of performance that you simply can't get with hardware RAID.
The RAID 5 Advantage
RAID 5 merges the four drives inside ThunderBay together for exponential performance gains over a single drive, the combined capacity of three of the drives, and data redundancy that allows the array to still work even if one drive were to fail!
Certified And Tested
Each ThunderBay 4 solution undergoes OWC's multi-hour drive "burn-in" performance certification procedure prior to shipping. This ensures your ThunderBay 4 arrives operating properly, ready for demanding use.
4 Drive Bays Plus So Much More. Time-tested Cooling
Built on OWC's time-tested enclosure cooling technology, ThunderBay 4 utilises an open "flow-thru" vented design with an oversized 92 mm, low-turbulence, noise-quieting fan to keep the drives running cool and reliably.
Multi-Drive
Daisy-chain up to six ThunderBays for massive storage capabilities and increased performance, or connect multiple ThunderBays to multiple Thunderbolt 2 ports to achieve exponential speed capabilities.
Vibration Dampened
ThunderBay 4's drive isolating design reduces sonic resonance, and is aided by over-sized, rugged, vibration-absorbing, non-skid feet.
DisplayPort 1.2 Support
Dual Thunderbolt 2 ports let you connect the display of your choice that your computer can support, including 4K displays.
Backed By OWC
Should you ever have a question or troubleshooting need, you can rely on OWC's award-winning support.
Your Digital Life…Protected For FREE
Backing up and protecting your data is critically important. But all too often it's a task that falls to the bottom of the "to do" list, and you don't realise it until it is too late. That's why OWC has partnered with Acronis to give you 1 full year of the #1 personal backup and antivirus software to integrate into your workflow. Acronis Cyber Protect Home Office safeguards you from today's data threats—from accidents to failures to attacks. With easy, intuitive backup and Ai-enhanced antimalware technology, your digital life is protected—photos, files, applications, systems, and the devices they are on.
OWC award-winning U.S. based support for both the ThunderBay 4 drive and SoftRAID software is included with your purchase
Works with 3.5" or 2.5" drives — no adapter needed
Includes SoftRAID: robust software for creating, monitoring, and managing advanced RAID sets
Ultra quiet, heat dissipating aluminium chassis
Exponentially faster rebuild times than hardware RAID
Introducing the OWC ThunderBay Flex 8. Tame your workflow with this highly configurable productivity platform for digital imaging, VFX, video production, and video editing professionals.
Compatible with the devices listed below.
Total Capacity

Standard Mechanism

4 x 14TB Toshiba MG07ACA Series 7,200RPM SATA Interface Enterprise Class Hard Disk Drive with 256 MB cache

Display Support

Up to one 4K display @ 60Hz
Or one 4K display @ 30Hz

Display Support by Port

Mini DisplayPort 1.2: up to 4K @ 60Hz
DisplayPort 1.2: up to 4K @ 60Hz

Boot Support

Independent volumes bootable in macOS

Hot Plug Support

Chipset

Thunderbolt 2: Intel Falcon Ridge
SATA Controller 2x: ASMedia ASM-1062

Drive Interface

Format

Included Drive Guide Software will format drive for either OS X, or Windows

Rotational Speed

Data Transfer Rate (Maximum)

Thunderbolt 2: up to 20 Gb/s (or 2500 MB/s)
Thunderbolt: up to 10 Gb/s (or (1250 MB/s)

Plug and Play

RAID Capable

Default RAID Level

RAID Levels Supported

RAID 0, RAID 1, RAID 4, RAID 5, RAID 10, JBOD

RAID Features

MTBF (Mean Time Between Failures)

Contact Start Stops

Mac OS Compatibility

Mac OS X 10.6 Snow Leopard
Mac OS X 10.7 Lion
Mac OS X 10.8 Mountain Lion
OS X 10.9 Mavericks
OS X 10.10 Yosemite
OS X 10.11 El Capitan
macOS 10.12 Sierra
macOS 10.13 High Sierra
macOS 10.14 Mojave
macOS 10.15 Catalina
macOS 11.x Big Sur
macOS 12.x Monterey
macOS 13.x Ventura

PC OS Compatibility

Windows 7 32-bit Edition
Windows 7 64-bit Edition
Windows 8 32-bit Edition
Windows 8 64-bit Edition
Windows 8.1 32-bit Edition
Windows 8.1 64-bit Edition
Windows 10 32-bit Edition
Windows 10 64-bit Edition
Windows 11

Driver Required

Host Port Requirements

Thunderbolt 2 (mDP) port (backwards compatible with Thunderbolt)

Other Requirements

SoftRAID XT works with macOS 10.12 or later and Windows 10 or later. SoftRAID is licensed per computer. The SoftRAID serial number will work with both Mac and Windows but can only be active on one computer at a time. Additional seats can be purchased. RAID 4/1+0 (10) are currently Mac only at this time. Boot Camp is not supported. The Thunderbolt certification process does not include Macs running Windows through Boot Camp. PCs running Windows 7 Service Pack 1 or later with a Thunderbolt port. Driver required for proper installation

Power Supply

Internal UL-listed universal auto-switching power supply

AC Input

90-264V, 47-63Hz, 1.8-3.5A

DC Output

Wattage

External Power Adapter

Power Requirements

Number of Bays

Device Ports

1 x Host port - Thunderbolt 2 up to 20 Gb/s (2500 MB/s) - Thunderbolt 1 backwards compatible
1 x Thunderbolt 2 port

Cooling

Security Slot

Power Button

Certifications

Dimensions

H: 177 x L: 245 x W: 135 mm

Weight
1 x OWC ThunderBay 4 HDD Storage Solution
1 x 1.0 m OWC Thunderbolt Cable
2 x Security Keys for Front Panel Lock
1 x Quick Start Guide for OWC ThunderBay 4 with Thunderbolt 2
1 x Assembly Manual & User Guide for OWC ThunderBay 4 with Thunderbolt 2
1 x OWC SoftRAID XT Software Bundle
1 x Quick Start Guide for OWC SoftRAID XT
1 x Manual & User Guide for OWC SoftRAID XT
1 x Acronis Cyber Protect Home Office (1 Year Subscription)