OWC 56TB ThunderBay 4 Four-Bay Thunderbolt External Storage Solution with Enterprise Drives and SoftRAID XT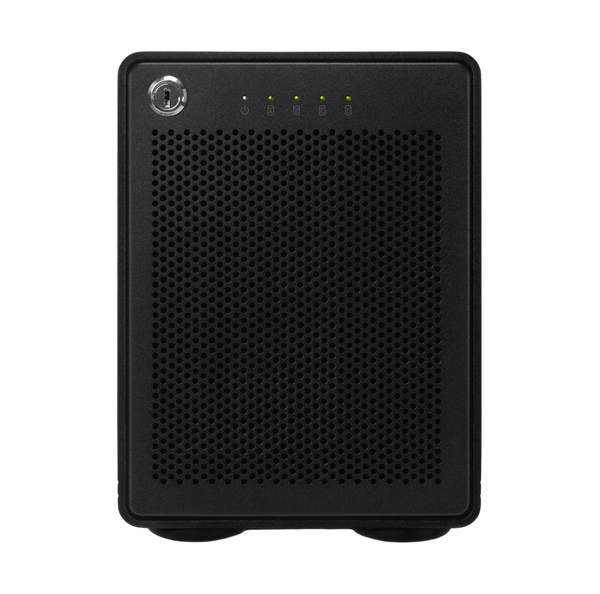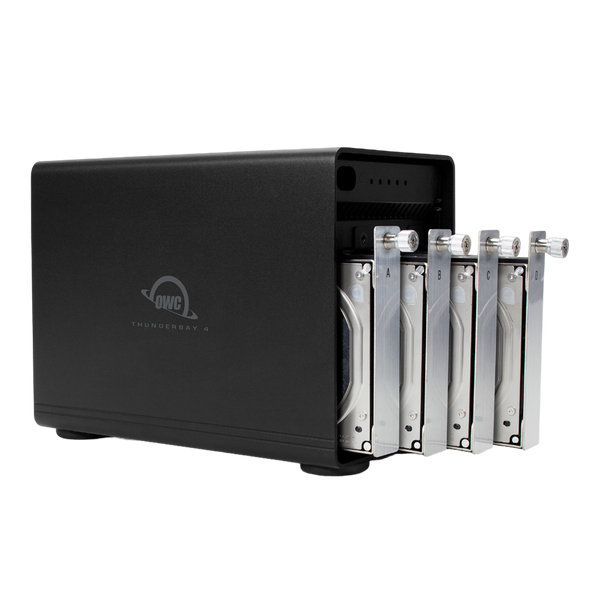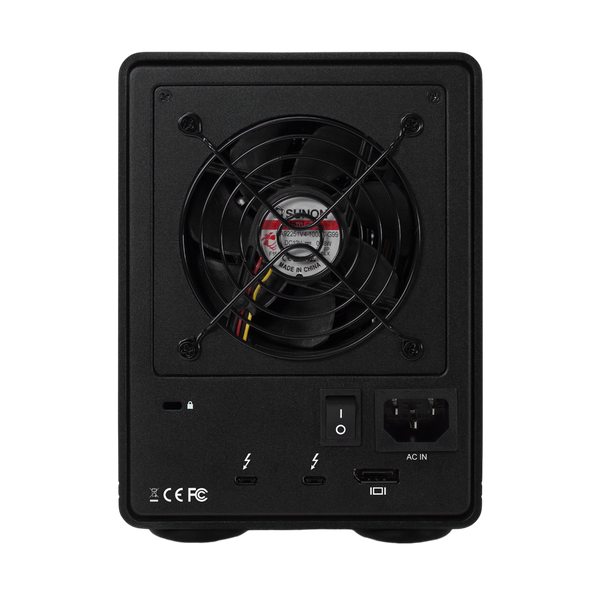 OWC Thunderbay 4 with SoftRAID XT
There's a reason ThunderBay 4 is OWC's most popular multi-bay RAID storage solution. You can use a variety of 3.5-inch or 2.5-inch drives for everyday digital file storage and backup all the way to running multi-stream compressed 4K video. With two Thunderbolt ports, it gives you the muscle to move all that content.
And ThunderBay 4 is highly configurable to perfectly match your storage needs. You can use each drive independently, or with OWC SoftRAID XT configure your setup with the optimal balance of performance and data-redundancy. Get the most out of your storage, take the brakes off your workflow, and do more with a ThunderBay 4.
Cool. Fast. Empowering.
Each populated ThunderBay 4 solution undergoes OWC's multi-hour drive "burn-in" performance certification procedure prior to shipping. This ensures your ThunderBay 4 arrives operating properly and ready for demanding use. And OWC Enterprise Drive solutions are feature Enterprise class drives with robust technologies that provide maximum drive endurance, data reliability, and extended warranties.
The "Supply Chain" That Always Delivers
With two Thunderbolt ports, the ThunderBay 4 lets you daisy-chain up to five additional Thunderbolt devices and displays while keeping Thunderbolt ports on your laptop or desktop free for other uses.
Workflow and Storage Solutions for Pros
Whether you're finishing and mastering, creating proxies or working with state-of-the-art VFX and AR, you need dependable tech that keeps pace with your demands. OWC workflow and storage solutions cover every angle, delivering blazing speed, capacity for all five levels of RAID, and bonus features like the freedom to daisy-chain and hot-swap.
SoftRAID: RAID Made Easy
Harness the full capability of your OWC drive array with the included SoftRAID XT, the most powerful, intuitive RAID management software on the market for macOS and Windows. SoftRAID's RAID creation and management technology has been finely tuned to perfection with over 20 years of development to provide rock solid protection of your data and optimise drive performance.
SoftRAID XT provides an unbeatable combination of speed, protection, and compatibility…
Advanced: Create RAID 0/1/4/5/1+0 (10) arrays
Protected: SoftRAID Monitor constantly watches your disks and alerts you if problems are detected
Validated: Volume validation ensures sectors can be read and parity is correct
Certified: Checks disks before use to ensure they are safe for data storage
Vigilant: Error prediction helps protect against unexpected failure
Universal: Move SoftRAID arrays seamlessly between Mac and PC2 with built-in OWC MacDrive technology
Flexible: mix and match 3.5-inch or 2.5-inch HDDs and SSDs
Versatile: two Thunderbolt ports so you can daisy chain up to five additional Thunderbolt devices
Speedy: up to 1141MB/s peak performance (RAID 0)
View more: connect up to a 4K display via DisplayPort 1.2
Easy: offers same functionality and performance with Thunderbolt 3 & 4 machines
Convenient: built-in power supply eliminates hassle of bulky power brick
Complete: includes SoftRAID XT: robust software for creating, monitoring, and managing advanced RAID sets
Compatible with the devices listed below.
Total Capacity

Total Solution Cache Size

Standard Mechanism

4 x 14.0TB Toshiba MG09ACA Series 7,200RPM Enterprise Capacity Hard Disk Drive with 512 MB cache

Hot Swap Support

Drive Interface

Rotational Speed

Data Transfer Rate (Maximum)

Thunderbolt 3: up to 40 Gb/s (or 5000 MB/s)

Plug and Play

RAID Capable

Default RAID Level

RAID Levels Supported

JBOD
RAID 0
RAID 1
RAID 4
RAID 5
RAID 10

RAID Features

Benchmark Speed, Read (Max)

Benchmark Speed, Write (Max)

Chipset

SATA Controller: 2 x ASM1062
Thunderbolt 3: 1 x Intel DSL6540

Contact Start Stops

Host Port Requirements

Thunderbolt (USB-C) port (backward compatible with Thunderbolt 2/Thunderbolt)

Mac OS Compatibility

macOS 10.12 Sierra
macOS 10.13 High Sierra
macOS 10.14 Mojave
macOS 10.15 Catalina
macOS 11.x Big Sur
macOS 12.x Monterey
macOS 13.x Ventura

PC OS Compatibility

Windows 10 64-bit Edition
Windows 11

Other Requirements

SoftRAID XT works with macOS 10.12 or later and Windows 10 or later. SoftRAID is licensed per computer. The SoftRAID serial number will work with both Mac and Windows but can only be active on one computer at a time. Additional seats can be purchased. RAID 4/1+0 (10) are currently Mac only at this time

Power Supply

Internal UL-listed universal auto-switching power supply

AC Input

External Power Adapter

Number of Bays

Device Ports

1 x host port - Thunderbolt 3 (USB-C) up to 40 Gb/s (5000 MB/s)
1 x Thunderbolt 3 (USB-C) port
1 x DisplayPort port

Cooling

1 x 92 mm temperature-controlled cooling fan

Dimensions

H: 177 x L: 245 x W: 135 mm
1 x OWC ThunderBay 4 External Storage Solution
1 x 0.7 m OWC Thunderbolt Cable
2 x Security Keys for Front Panel Lock
1 x Quick Start Guide for OWC ThunderBay 4 with Thunderbolt 3
1 x Assembly Manual & User Guide for OWC ThunderBay 4 with Thunderbolt 3
1 x OWC SoftRAID XT Software Bundle
1 x Quick Start Guide for OWC SoftRAID XT
1 x Manual & User Guide for OWC SoftRAID XT