32GB OWC Matched Memory Upgrade Kit (4 x 8GB) 1866MHz PC3-14900 DDR3 ECC Non-Registered 240 Pin SDRAM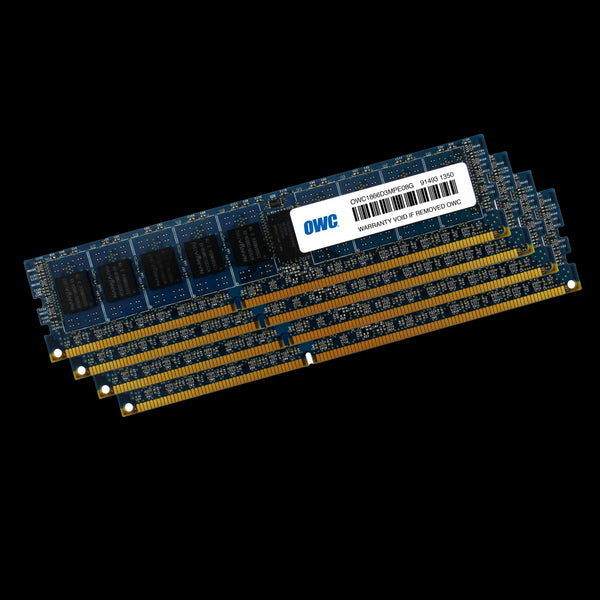 32GB (4 x 8GB) ECC Non-Registered Matched Memory Kit for Mac Pro 2013
Unlike other memory manufacturers, OWC owns and maintains an on-site, state-of-the-art Test Lab featuring nearly every Apple Mac model and variation manufactured over the past 25 years to ensure their RAM upgrades meet, if not surpass, all Apple Design Specifications.
Easy to Install
Easily boost the performance of your Mac
Improve the start-up time of your Mac
Improve the speed of your operating system and applications.
Meets and Exceeds Apple Design Specifications.
Warranty Safe Upgrade.
Rigorously in-house lab tested.
OWC Lifetime Replacement Warranty.
Compatible with the devices listed below.
Technology

DDR3 ECC SDRAM DIMM

Module Density

8GB (8192MB)

Kit Capacity

32GB

RoHS

Yes

Pin Count

240 pin

Speed

1866MHz PC3-14900

Setup

1024M x 72, Dual Rank Non-Registered ECC Memory

Module Bandwidth

14.9GB/s

CL

CL13

Voltage

1.5V

Apple Specified Thermal Sensor

Yes
1 x 32GB OWC Matched Memory Upgrade Kit (4 x 8GB) 1866MHz PC3-14900 DDR3 ECC Non-Registered 240 Pin SDRAM
Lifetime Limited Warranty