OWC 1TB Aura Pro 6G SSD For 2012 to Early 2013 MacBook Pro with Retina display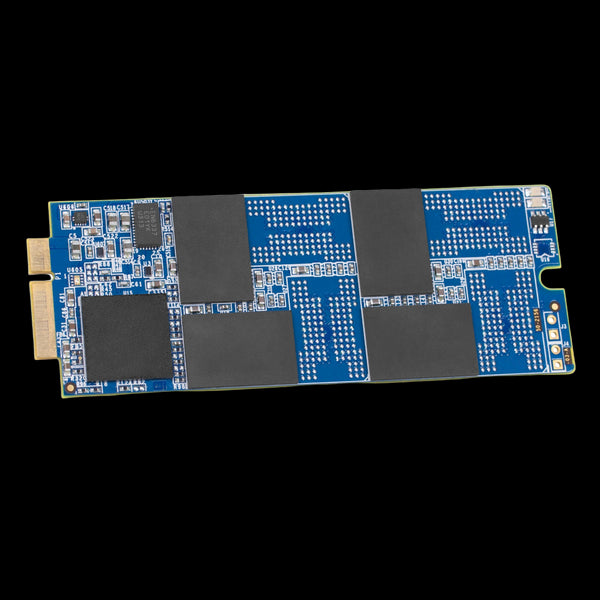 High Performance Internal Flash Storage Upgrade
Designed for Mac
Once again, OWC provides Mac users an upgrade path that delivers phenomenal performance, functionality, and reliability! Whether it's for the base 13" model only offering a 128GB SSD or the base 15" model offering just a 256GB SSD, installing an Aura Pro 6G SSD is the best enhancement for the MacBook Pro with Retina display. Just like other OWC upgrades, we include a free 'how-to' video to make this an easy and money-saving DIY upgrade.
Better by Design
OWC redesigned its 3rd generation of OWC Aura Pro 6G SSDs with premium 3D NAND Flash and the latest controller technology to operate cooler and consume less power, resulting in improved battery life for your MacBook Pro. OWC SSDs are engineered to be the best for Mac, undergoing a rigorous multi-stage lab testing process to deliver absolute reliability at maximum performance long into the future.
More Speed, More Capacity for MacBook Pro
OWC Aura Pro SSDs provide a noticeable increase in performance over the factory SSDs for all MacBook Pro with Retina display models:
Increase capacity up to 16x the 13-inch base models
Increase capacity up to 8x the 15-inch base models
Get write speeds up to 500MB/s, 26% faster than factory original
Get read speeds up to 530MB/s, 8.6% faster than factory original
SLC caching algorithm accelerates burst performance
Global wear leveling algorithm automatically distributes data evenly and manages program/erase count, maximizing SSD lifespan
Data refresh technology ensures data integrity, gradually refreshing data across the SSD over time
ECC protection combines LDPC hard and soft decoding with advanced algorithm to detect and correct errors throughout the entire SSD data path
Advanced security protocols support AES 128/256-bit full-drive encryption
Compatible with the devices listed below.
Specs Form Factor

Custom Blade

Interface

SATA 6Gb/s

Useable Capacity

1000GB capacity

Formatted Capacity

931GiB

NAND

3D Triple-Level Cell (TLC) Synchronous NAND Flash Memory

Controller

Silicon Motion SM2258 with 7% Over Provisioning

SMART Attributes

Standard

Native Command Queuing

Yes

RAID Support

No

RoHS Compliant

Yes

Format

Unformatted

MTBF (Mean Time Between Failures)

1,500,000

Endurance

75TB total bytes written (TBW)

Data Reliability

ECC Recovery

Security

ATA security feature command set and password login support

TRIM Support

OS Dependent

Nonrecoverable Read Errors

Less than 1 sector per 1015 bits read

Average Access Time

<0.1 ms

Sustained Read/Write 6Gb/s (up to)

530MB/s / 494MB/s

Random 4K Read/Write

Up to 60,000 IOPS / Up to 74,000 IOPS

Physical Specifications

H: 3.0mm x W: 32.00mm x L : 88.0 mm
Weight: 10g
1 x 1 TB OWC Aura Pro 6G SSD