OWC 100TB Thunderbay Flex 8 Thunderbolt 3 Storage Solution (1 x U.2 SSD + 7 x HDD RAID)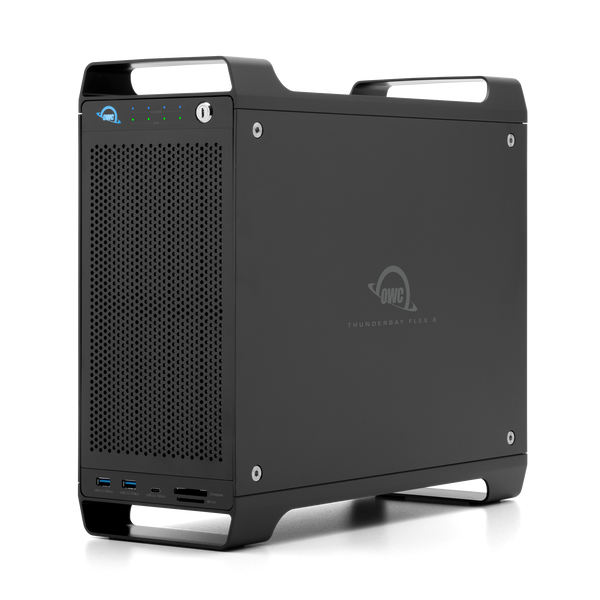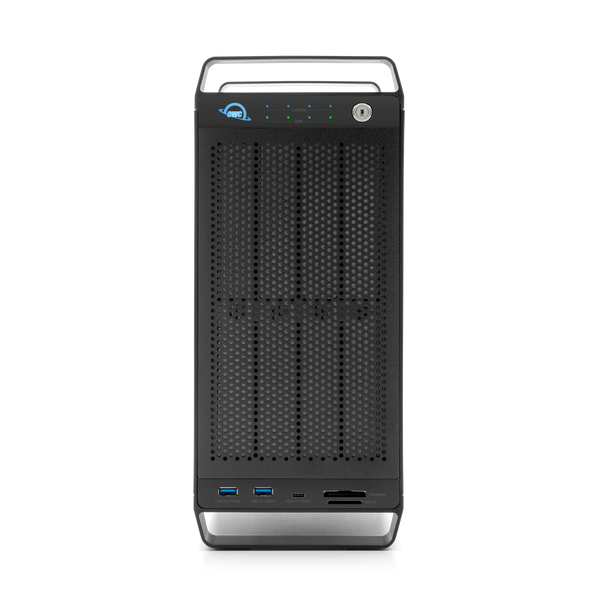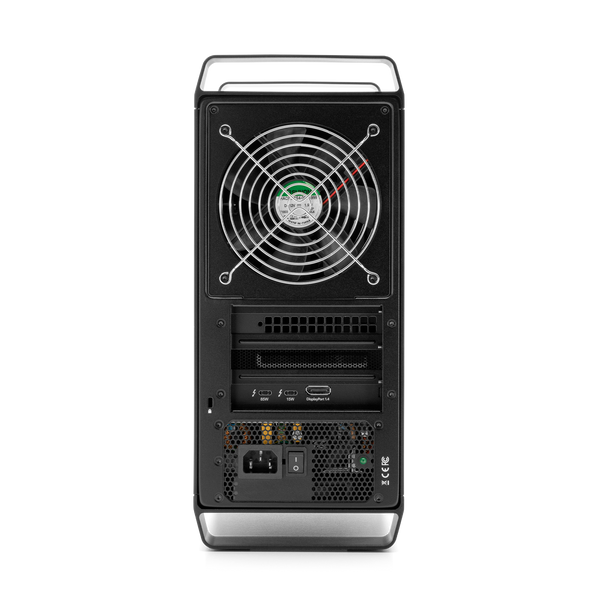 OWC Thunderbay Flex 8
Whether you call it a workflow workhorse, a productivity platform, or a configurable command centre, one description of the ThunderBay Flex 8 says it best. It is a groundbreaking workflow solution for digital imaging, VFX, video production, and video editing professionals from the world's leading Thunderbolt accessory manufacturer.
Flex Your Way Through Every Workflow
ThunderBay Flex 8 offers eight drive bays that support a mix of SATA/SAS and U.2/M.2 NVMe drives for virtually limitless storage capacity. Next, there's a plethora of ports including 2 x Thunderbolt 3, 1 x USB-C, and 2 x USB-A for device docking and charging.
See your work in greater detail by adding up to an 8K display via a built-in DisplayPort 1.4 connection. Ingest hi-res images and video via front-side SD 4.0 and CFexpress card readers. And when you want to expand your desktop capabilities, there's a PCIe slot waiting for your specific project needs.
ThunderBay Flex 8 is the one Thunderbolt 3 desktop device that rules them all. With an irresistible economy of scale, this consolidated solution is ideal for anyone waiting for the right moment to invest in Thunderbolt technology.
NVMe. PCIe. What's It Mean to Me?
At the heart of the ThunderBay Flex 8 capabilities are two cutting-edge technology standards: NVMe and PCIe. Non-Volatile Memory Express (NVMe) optimises the performance of modern flash technology over the Peripheral Component Interconnect Express (PCIe) standard. It enables significantly faster SSD performance with a more direct and optimised path to a computer's processor.
Muscle-FLEXing Data Performance
Right out of the packaging, all eight bays are configured with SATA 6Gb/s 3.5-inch HDDs. With real-world read/write speeds of 2750MB/s that saturates the Thunderbolt 3 speed threshold, you're ready to handle 4K/8K and even Phantom high-speed files.
Docking FLEXibility
A virtual buffet of productivity-enhancing possibilities awaits you with the docking connections built into ThunderBay Flex 8. Power your notebook with up to 85W power delivery while capturing multi-stream hi-res footage at full frame rate. Connect audio and video mixers, digital camera, keyboards, and other peripherals and charge mobile devices via one USB-C and two USB-A 10Gb/s ports. Ingest and work with 4/8K RAW video and RAW photo files immediately at speeds up to 985MB/s with frontside SD 4.0 and CFexpress card readers. Add more viewing space with up to an 8K monitor via the DisplayPort 1.4 interface. And if all that's not enough to satisfy your project needs, daisy-chain up to five additional Thunderbolt 3 devices!
FLEXpandable for Unique Needs
By removing the enclosure's side panel, you can expand your capabilities by installing a half-length, full-height, single-width expansion card in the PCIe x16 connector/x4 lanes slot. Add a 4K video capture card for direct ingest of multi-stream high-res footage. Record high-quality tracks with an audio card and then edit and archive tracks.
Includes SoftRAID XT: Easy and Complete Drive Management
SoftRAID XT is the most powerful, intuitive software RAID utility on the market. Multiple RAID options let you select the RAID level that fits you or your project's needs best. If you need maximum volume capacity, optimum drive performance, data protection, or a combination of attributes, SoftRAID has you covered.
Packed with features like drive validation, verification and failure prediction—SoftRAID includes features you simply don't get with hardware RAID. It's like having a datacenter on your desktop! From home users looking to protect photos and documents to professionals needing to protect and quickly access projects, SoftRAID is the perfect solution.
A Protective, Economical Post-Production Solution
Sending a drive from set to post-production typically entails tedious and time-consuming drive enclosure disassembly to access the storage drive or costly shipping of the entire enclosure to the post lab. But ThunderBay Flex 8 offers yet another option.
By installing an OWC U.2 NVMe Interchange System carrier tray (sold separately) with a built-in U.2 connector into a ThunderBay Flex 8 drive tray, you can protect the U.2 SSD drive's connector from repeated install/removal wear for improved drive longevity and investment. When done with your shoot, just ship the lightweight protective carrier and drive to the lab where the carrier can be installed into an OWC Helios 3S equipped with the OWC Interchange System. It's a complete solution to safeguard your data while lowering shipping costs.
OWC Upgrade + Support Plan
A free one year enrolment in the Upgrade + Support plan is included with standalone software purchases and OWC enclosures without drives. Three years of coverage from the plan applies to the purchase of OWC enclosures with drives. Please note, if you decide not to renew your Upgrade + Support plan SoftRAID will continue to work with the OS it was designed for without limitation. Although no further updates will be provided once your initial Upgrade + Support Plan expires.
Storage solution #1: 2TB hyper-fast U.2 SSD
Storage solution #2: 98TB HDD RAID (7 x 16TB)
Eight drive bays: pre-configured with a U.2 NVMe SSD in the first bay and seven enterprise class SATA hard drives in the remaining bays
Reconfigurable: use a mix of SATA / SAS and U.2 / M.2 NVMe drives for virtually limitless capacity and real-world speeds up to 2750MB/s
Future ready: top four bays can use U.2 SSDs…the emerging M&E industry storage standard
Powerfully easy RAID: create, manage, and monitor advanced RAID sets with SoftRAID
Do more: second Thunderbolt 3 port for daisy chaining devices or additional display(s)
See more: DisplayPort 1.4 for connecting up to an 8K display
Fast media ingest: front-side SD 4.0 and CFexpress card readers with up to 985MB/s speed
Play your card: 1 x PCIe slot for audio/video capture, networking, SSD storage, hardware RAID card, or I/O card
Introducing the OWC ThunderBay Flex 8. Tame your workflow with this highly configurable productivity platform for digital imaging, VFX, video production, and video editing professionals.
Mechanisms Supported

3.5 or 2.5 inch SATA drives
2.5 inch U.2 drives (top 4 bays only)
NVMe M.2 drives (via U.2 adapter)
3.5 or 2.5 inch SAS drives (requires SAS card, not included)

Total Capacity

Standard Mechanism

7 x 14.0TB Toshiba MG08ACA Series 7,200RPM Enterprise Capacity hard disk drive with 512 MB cache
1 x 2.0TB Western Digital Ultrastar DC SN640 U.2 NVMe solid-state drive

Chipset

Thunderbolt: intel JHL7440
PCIe switch: ASMedia ASM-2824
USB controller: Genesys Logic GL-3590

Certifications

Data Transfer Rate (Max)

Thunderbolt 3: up to 40 Gb/s (or 5000 MB/s)

RAID Levels Supported

RAID 0, RAID 1, RAID 0+1, RAID 4, RAID 5, JBOD

RAID Features

MTBF (Mean Time Between Failures)

Varies depending on drive mechanism installed

Contact Start Stops

Varies depending on drive mechanism installed

Mac OS Compatibility

macOS 10.15 Catalina
macOS 11.x Big Sur
macOS 12.x Monterey

PC OS Compatibility

Not compatible with Windows PCs

Other Requirements

macOS 10.15.1 or later required

Host Port Requirements

Supported PCIe Cards

Supports one full-height, half-length, single-width card (driverless or with Thunderbolt-aware driver). GPUs not supported

Power Supply

Internal UL-listed universal auto-switching power supply

AC Input

100-240V, 47-63Hz, 4.0A-8.0A

DC Output

Power Delivery

2 x Thunderbolt 3 ports (15W, 85W)

Number of Bays

Expansion Slots

1 x PCIe 3.0 x16 physical, x4 electrical, full-height, half-length, single-width

Device Ports

2 x Thunderbolt 3 (USB-C) ports
1 x USB 3.2 Gen 2 type-C port up to 10Gb/s (1250MB/s) - USB 2.0/3.0 backwards compatible
2 x USB 3.2 Gen 2 type-A ports up to 10Gb/s (1250MB/s) - USB 2.0/3.0 backwards compatible
1 x DisplayPort port

Memory Card Slots

1 x CFexpress
1 x Secure digital (SD)

Cooling

1 x 120 mm, 1,600RPM cooling fan

Security Slot

Power Button

Dimensions

H: 349 x L: 390 x W: 149 mm

Weight
1 x OWC ThunderBay Flex 8
1 x Thunderbolt Cable
1 x External Power Cable
2 x Keys for Front Panel Lock
1 x Hex Key
1 x Assembly Manual and User Guide
1 x SoftRAID Software Bundle
1 x Acronis Cyber Protect Home Office (1 Year Subscription)