NewerTech MAXPower x4 PCIe Controller Card with 4 x USB 3.1 Gen1 Ports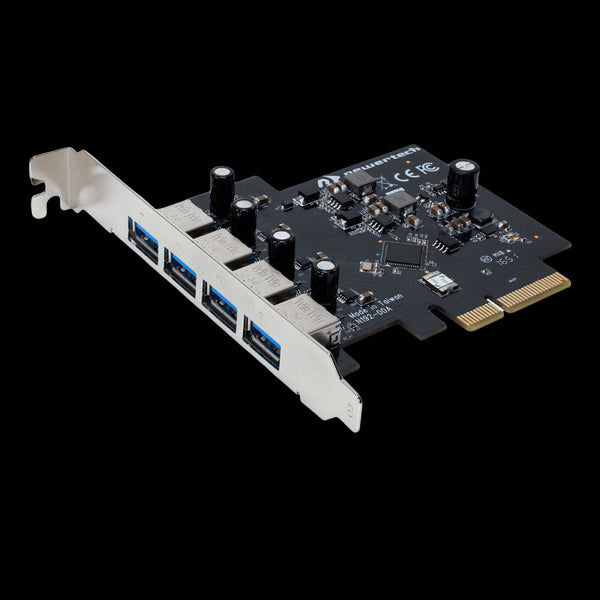 NewerTech MAXPower x4 PCIe Controller Card with 4 x USB 3.1 Gen1 Ports
The MAXPower USB 3.1 Gen 1 – 4-port PCIe card gives you more options. Four more options, in fact. Four high-power, high bandwidth USB ports for Mac Pro and PC with maximum wattage and data throughput, for a total of up to 5 Gb/s and 15W.
Power
With up to 15 watts of total power to fully charge and power your USB devices, you won't have to mess around with plugging and unplugging devices to keep them powered and charged any more.
Performance
Up to 5 Gb/s total data transfer speed means you can use all your USB devices at their maximum speeds. With this much available bandwidth, you can do much more with your devices.
Requires available PCIe Slot
Add Four USB 3.1 Type-A ports to any Mac & PC with an open PCIe slot
Deliver maximum power available through all 4 ports
Up to 5Gb/s throughput from all 4 ports
Easy to install
Compatible with the devices listed below.
Chipset

Fresco Logic FL-1100EX

Connector Type

PCIe 2.0 (fits x4 or larger slot, runs at x1 speeds)

Software Requirements

OS:

OS X 10.8.5 or higher
Windows 7 or higher

Driver:

Driver not required for OS X
Driver required for Windows 7

Note:

Boot Camp is not supported

Hardware Requirements

Minimum: Mac or PC featuring PC with a PCIe 1.0 slot
Recommended (Best Performance): Mac or PC featuring PCIe 2.0 or higher slot
Note: Thunderbolt PCIe expansion chassis are supported

Bootability

Requires a Thunderbolt PCIe expansion chassis that is connected to a Mid-2013 or later Mac host computer

Port Multiplier Support

No

Sequential Read/Write

Read up to 350 MB/s
Write up to 333 MB/s

USB Battery Charging

Supports USB BC 1.2 specification:

Total power available: 24W (5V/4.8A)
Each port provides 5V/1

Hot Plug / Hot Swap Support

Supported on any compatible Mac or PC

USB Hubs / Card Reader Support

Supported on any compatible Mac or PC

Sleep / Hibernation Support

If using a Mac, you may experience disk ejections when waking from Sleep mode. This is a known issue that occurs when using add-on PCIe cards with the Mac operating system. It is suggested that you manually eject USB devices prior to enabling Sleep mode on a Mac. This issue is not present with Windows

Dimensions

Height (PCB): 120 mm (4.7 in)
Width (bracket): 22 mm (0.9 in)
Length (bracket and PCB): 94 mm (3.7 in)
Weight 68 g (2.4oz)
1 x NewerTech MAXPower 4-Port USB 3.1 Gen 1 PCIe Controller Card
3 Year NewerTech Product Limited Warranty