OWC Data Doubler Optical Bay Hard Drive/SSD Mounting Solution with tools (for iMac 2009-2011)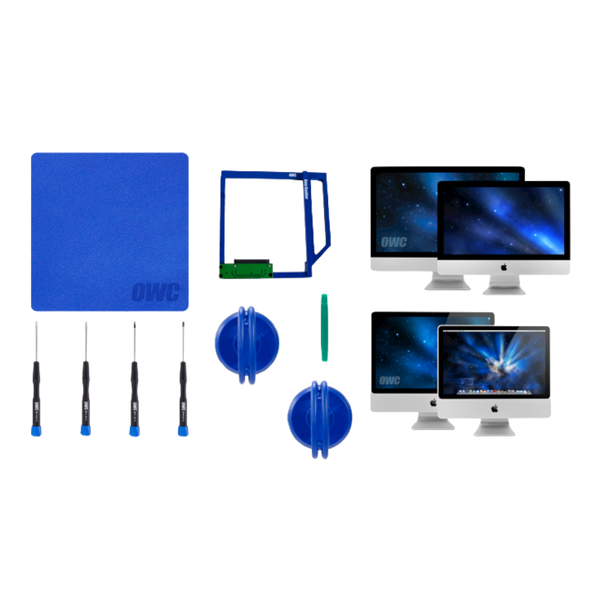 iMac 2009-2011 Optical Bay Hard Drive/SSD Mounting Solution
Boost your storage capacity by adding up to an additional 2.0TB of internal storage with a second hard drive, or enjoy near-instantaneous boot and app loading times by adding a Solid State Drive (SSD).
Configuration flexibility is yours when you replace your 2009-2011 iMac's internal SuperDrive with an OWC Data Doubler with a hard drive or SSD. The custom-engineered Data Doubler bracket comes ready to mount any 2.5" SATA drive up to 12.5mm in height.
Once you've installed the entire Data Doubler drive assembly into your 2009-2011 iMac's optical drive bay, you can customize how you want your internal storage to perform. Drive customization is easy and built right into OS X as the new Data Doubler mounted drive can be setup using Apple's Disk Utility program in which you can format the drive, create a RAID array using two drives together, or partition the new drive. Once formatted you can also setup the second drive as a Time Machine backup so you can take your backup with your wherever you go.
Download product data sheet
OWC Data Doubler
Optical Bay Drive/SSD Mounting Solution. Includes everything needed to replace your optical drive with a second hard drive or SSD
Compatible with 2009 - 2011 iMac
A Closer Look at the OWC Data Doubler
Compatible with the devices listed below.
1 x OWC Data Doubler Optical Bay Mounting Solution
2 x OWC 2-1/4" Suction Cup
1 x Torx T10 driver
1 x Torx T8 driver
1 x Torx T6 driver
1 x Phillips #00 driver
1 x Nylon Pry Tool (Spudger)
1 x OWC Blue Microfiber Screen Cleaning Cloth