Caldigit 12TB HDD T4 Thunderbolt 3 RAID External Storage Solution - Discontinued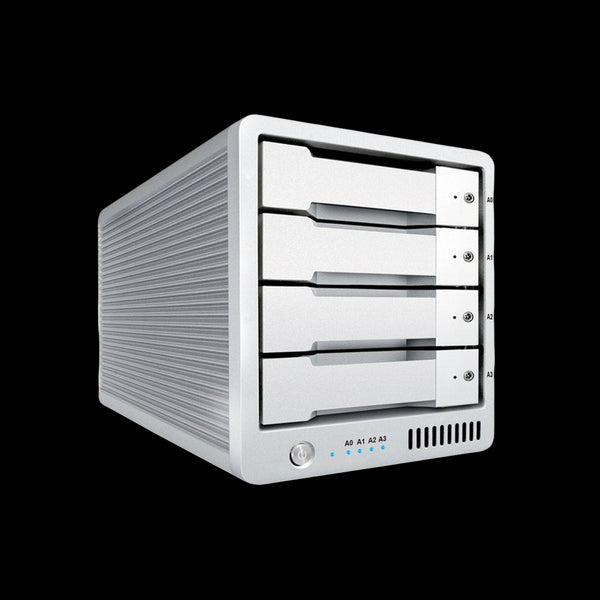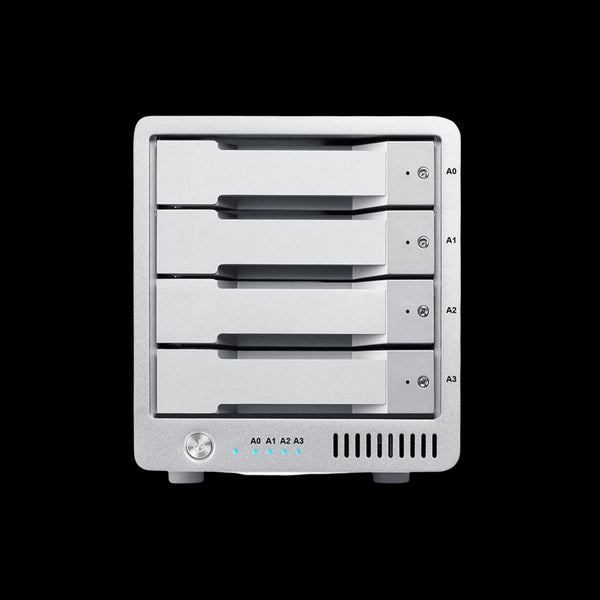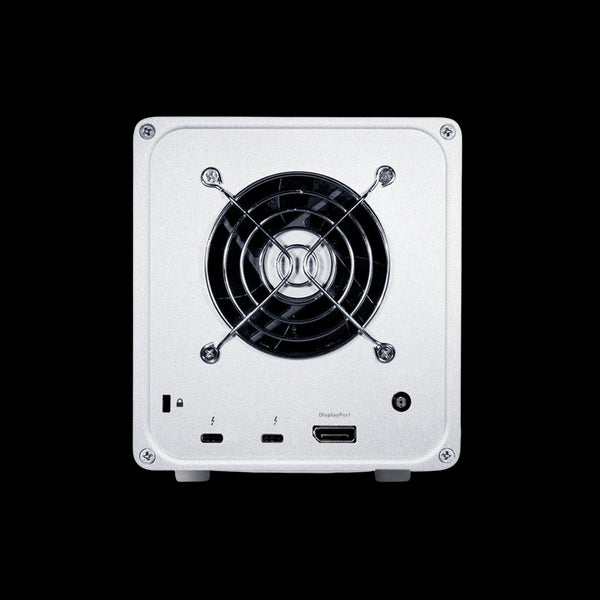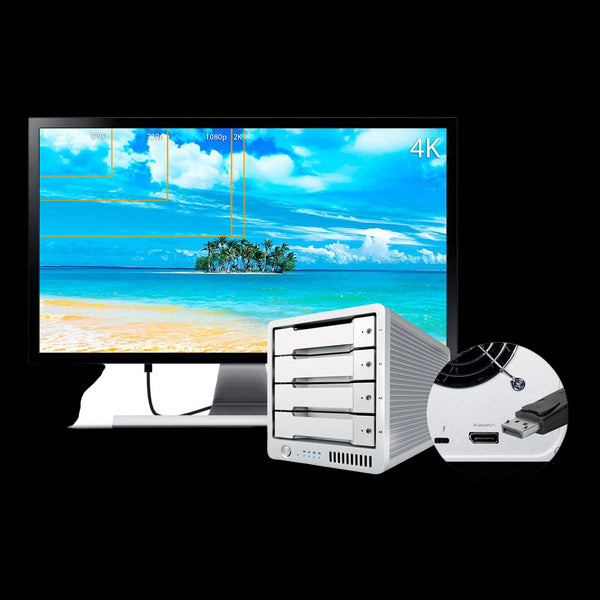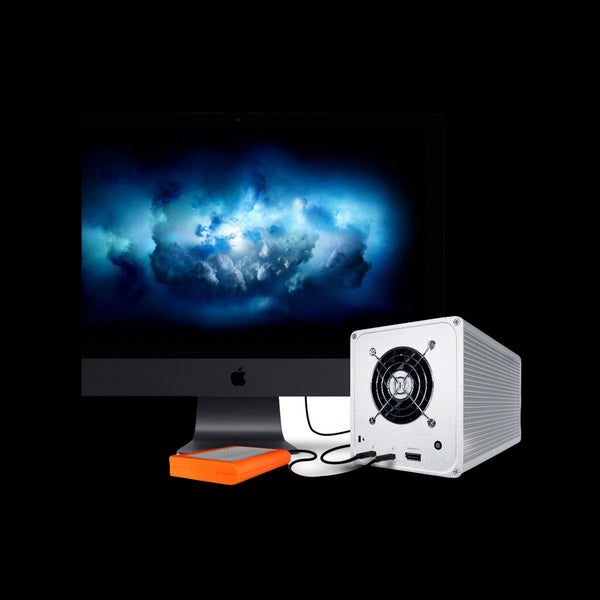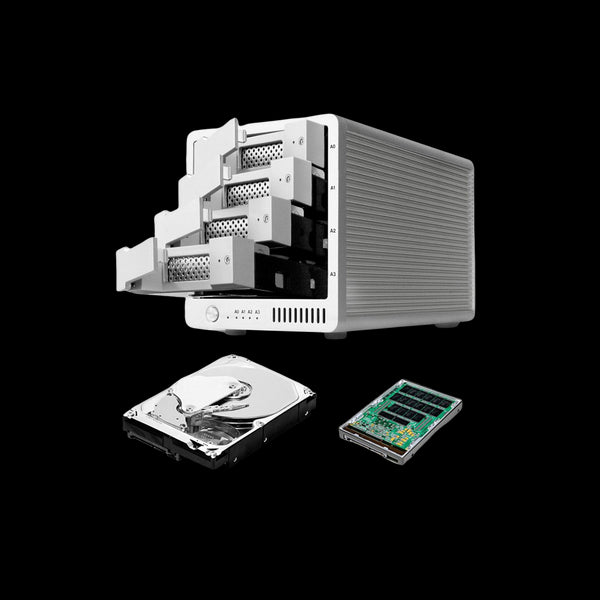 High Performance 4-Bay RAID Storage with DisplayPort, Charging & Thunderbolt 3
With the implementation of Thunderbolt 3 there are higher expectations than ever before on RAID storage devices to offer more than just data back-up. The T4 follows through on this promise by providing users with the ability to connect a 4K monitor and charge the connected laptop with one single Thunderbolt 3 cable. All of these new features are a powerful new addition to the core functionality of the T4 which provides incredible performance and RAID 5 protection for your valuable files.
It's important that a RAID is flexible, and can adapt to a user's professional workflow, not the other way around. The T4 features RAID 0 for the best performance, RAID 1 for 4 automatic back-ups, and RAID 5 for a balance between performance and protection.
The 4-bay design of the T4 means that users can mix and match RAID modes. Why not set two drive bays to RAID 0 and the remaining two to RAID 1? That is just a fraction of the possibilities. Get ready to design the RAID you want!
High Quality & Compact Design
Above all else for CalDigit, it is of paramount importance that every product is built to the highest of standards, and the T4 is no exception. Its die-cast aluminium chassis offers a level of durability unmatched by inferior metals. The aluminium design also helps with heat dissipation keeping the T4 cool at all times.
Let's face it, you don't want a huge storage device taking up space on your desk. The T4's low profile form-factor means that it is incredibly compact. In fact many professionals use the T4 on the road to back-up important data because of it's compact design.
TBT 1/2 Compatible
Even if your laptop doesn't feature the latest Thunderbolt 3 interface, you can still use the T4 as an external hard drive on previous generations of Thunderbolt with the optional Apple Thunderbolt 3 (USB-C) to Thunderbolt 2 Adapter sold separately by Apple. Certain functionality that is only possible through Thunderbolt 3 such as laptop charging will not function when connected to a Thunderbolt 1 or 2 host computer. This is a great way to future-proof your storage device.
Advanced Software
Getting all the vital info about your RAID is highly important. You don't want complicated software that is not user friendly. CalDigit's Drive Utility makes it very convenient to check on the status of your T4. This small piece of software is located in the macOS menu bar and provides you with all your T4 diagnostic information. The status of your T4 is just a glance away!
Important Note: Currently not compatible with windows
Dual Thunderbolt 3 Type-C Ports for Daisy Chaining
Speeds up to 750MB/s with HDDs or 1375MB/s with SSDs
85W Power Delivery for Laptop Charging, DisplayPort 1.2 Supports Displays up to 5K
RAID 0, 1, 5 JBOD Support, Mix and Match RAID Configurations
Colour

Silver

Drive Size Supported

2.5" & 3.5"

Storage Medium

HDD

Main Connection

Thunderbolt 3

Ports

2 x Thunderbolt 3
1 x DisplayPort

System Requirements

Mac OS X 10.12 or later (Currently not compatible with Windows)
Computer with Thunderbolt 3 Port

Dimensions

H:148 mm x W:135 mm x L:242 mm

Weight

6kg
1 x Caldigit 12TB HDD T4 RAID External Storage (drives included)
1 x 2m Thunderbolt 3 Cable
1 x AC Power Adapter
2 x Keys
1 x User Manual