OWC 64TB ThunderBay 4 RAID 5 (Thunderbolt 2 Model) with Dual Thunderbolt 2 Ports and SoftRAID XT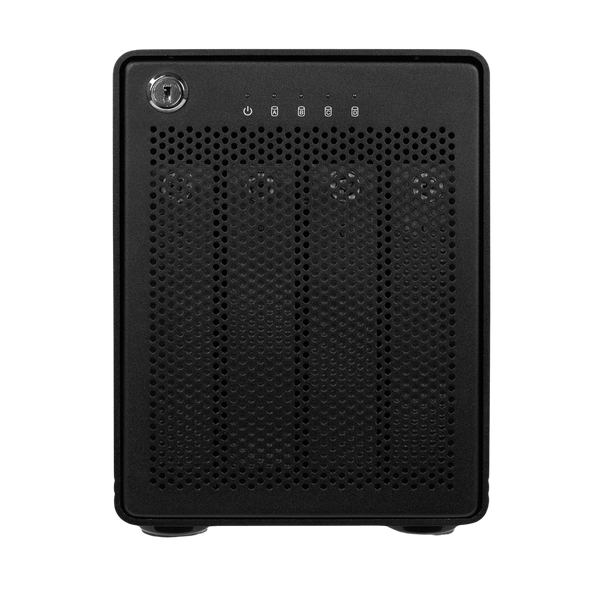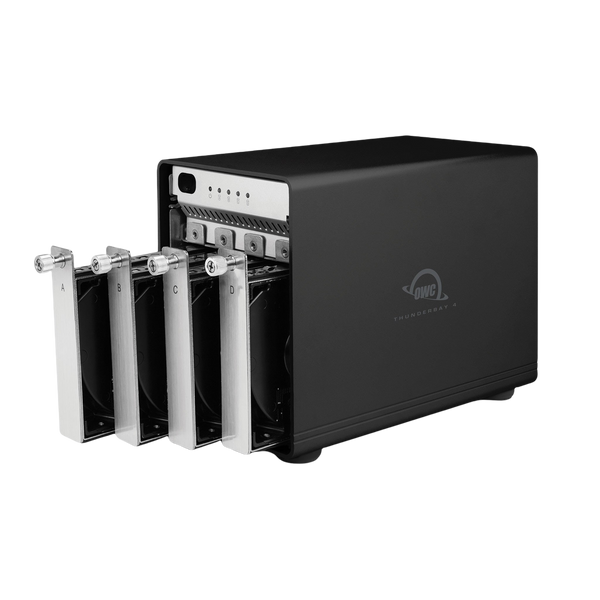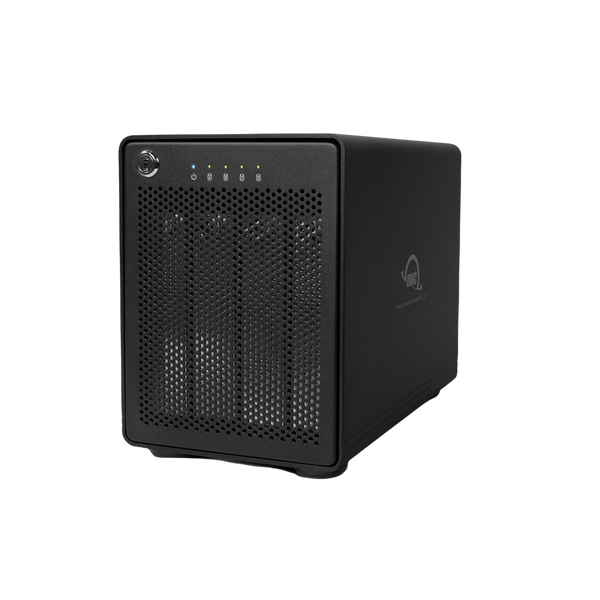 Performance + Redundancy
Experience the first and only software RAID 5 technology developed for the Mac with the SoftRAID XT. Empower your workflow with up to 35% faster RAID 5 performance and exponentially faster rebuild times than comparable hardware based RAID arrays. Activate advanced features, such as drive monitoring, e-mail notifications, and more when you install the included SoftRAID XT for macOS.
Conventional wisdom turned on its head.
Hardware RAID has long been thought to be superior to software RAID, but we've now combined the massive performance and capacity of ThunderBay 4 with a robust, proven software RAID engine to provide breathtaking performance, flexibility, and reliability.
Software RAID + ThunderBay = WHOA!
Over a year ago, OWC partnered with SoftRAID to bring enhanced storage capabilities to the Mac, and we're now seeing that dream become a reality. SoftRAID XT combines advanced RAID modes, fast performance, monitoring, e-mail notification, and fast rebuild capabilities that only software RAID can deliver.
Monitoring + Notifications
SoftRAID XT lets you easily setup drive monitoring and e-mail notifications to keep you informed about your ThunderBay's performance and drive health. Helping you to maintain mission critical workflows.
Better than Hardware RAID Performance
ThunderBay 4 and the SoftRAID engine offers faster performance than many competing 4 or even 5-bay hardware RAID external drives – benefiting from modern processors that are both fast and designed for exceptionally high-performance RAID management with no real-world impact on apps or tasks.
Flexible + Robust
SoftRAID XT is extremely flexible and can easily be updated, reconfigured and used across multiple enclosures to provide an amazing amount of robust options to empower you to make the most of your ThunderBay workflow.
Backed by OWC
Should you ever have a question or troubleshooting need, you can rely on OWC's award-winning U.S. based support for both the ThunderBay 4 drive and SoftRAID XT software.
Buyers note: RAID 4/5/1+0 (10) are currently Mac only. Only RAID 0 and RAID 1 are supported by Windows 10/PC.
Up to 651MB/s read / 446MB/s write RAID 5 performance.
User configurable in RAID 0, 1, 4, 5 & 1+0
Exponentially faster rebuild times than hardware RAID.
Four bays that fit both 2.5" and 3.5" drives
Dual Thunderbolt 2 ports, supports 4K displays
Drive isolating design reduces sonic resonance with added non-skid feet
Plug and play RAID-ready
Compatible with the devices listed below.
Mechanism

4 x 16.0TB Seagate Exos X16*

*OWC reserves the right to replace or upgrade to equivalent or better components.

Chipset

Thunderbolt 2

JBOD / RAID Support

JBOD: Utilise each of the four drives independently.
RAID: Use any Software RAID of your choice to setup the ThunderBay 4 for multi-drive performance or data redundancy.

Format

Built models come pre-formatted for SoftRAID and configured as a RAID 5 volume. - If utilising on a Mac with OS X 10.8.5 or earlier, the SoftRAID software must be installed prior.

Port Configuration

2 x Thunderbolt 2 ports

Max Data Transfer Rate

Thunderbolt 2 – 20Gb/sec

Port/Interface Bootability

It can be used as a Thunderbolt startup drive on Macs running Mac OS X.

System Requirements

Any Mac with a Thunderbolt port running OS X 10.9 or later.
Boot Camp is not supported. The Thunderbolt certification process does not include Macs running Windows through Boot Camp.

Power Supply

Internal UL Listed U.S./International Auto Switching 100 ~ 240v, 50/60Hz input, 12 Volt 16.66 Amp output Power Supply. Correct Plug supplied based on order country destination.

External Case Dimensions

245.11mm x 134.87mm x 176.78mm

Enclosure Weight (no accessories)

Approximately 3.9kg
1 x 64TB OWC ThunderBay 4 RAID 5 with Dual Thunderbolt 2 Ports and SoftRAID XT
1 x SoftRAID XT
1 x Thunderbolt cable
1 x UL-certified 3-prong power cable
2 x Keys for front panel lock
1 x ThunderBay 4 Assembly Manual & User Guide (Download Only)
1 xSoftRAID XT Quick Start Guide
1 xThunderBay 4 Quick Start Guide