OWC 0TB Accelsior 8M2 Eight NVMe M.2 to PCIe Card for Mac Pro (Late 2019) and PC Towers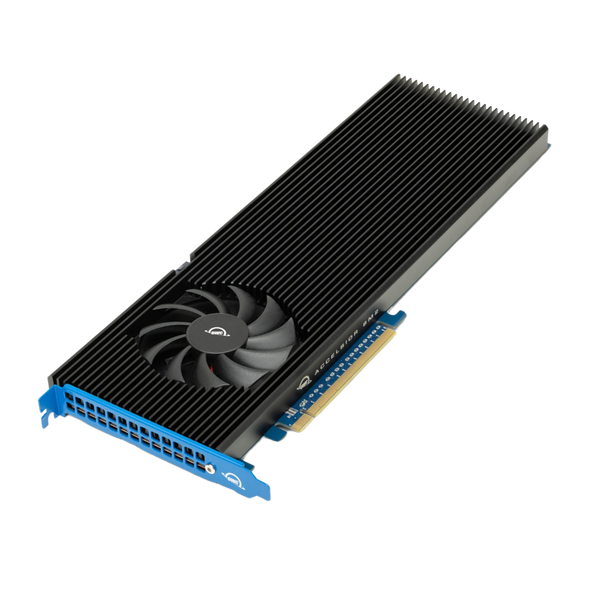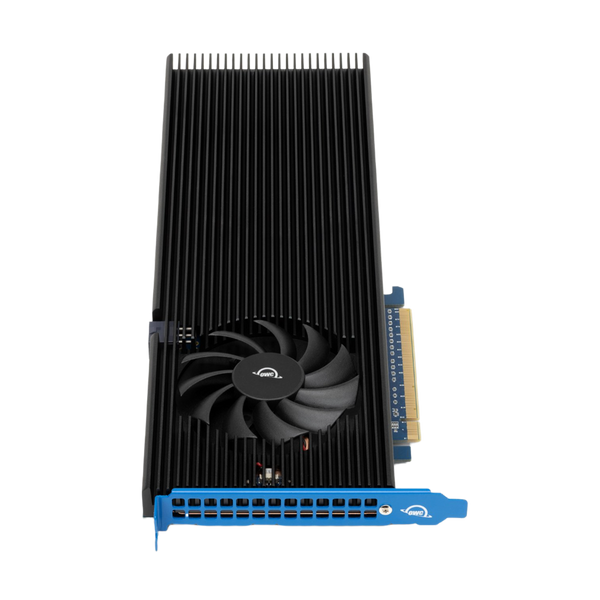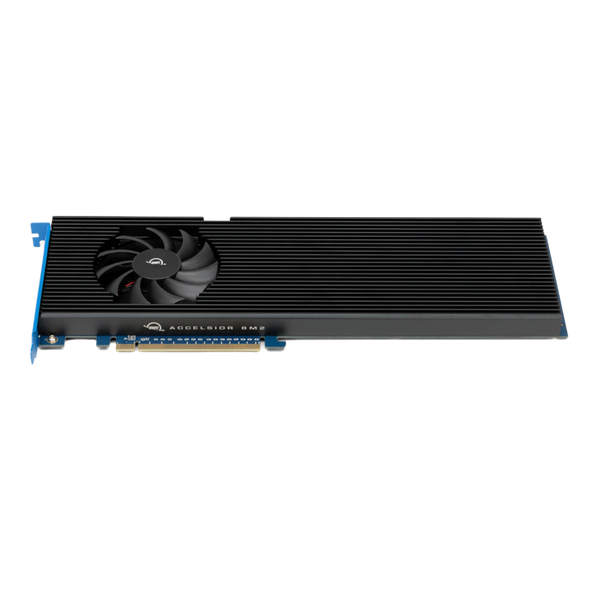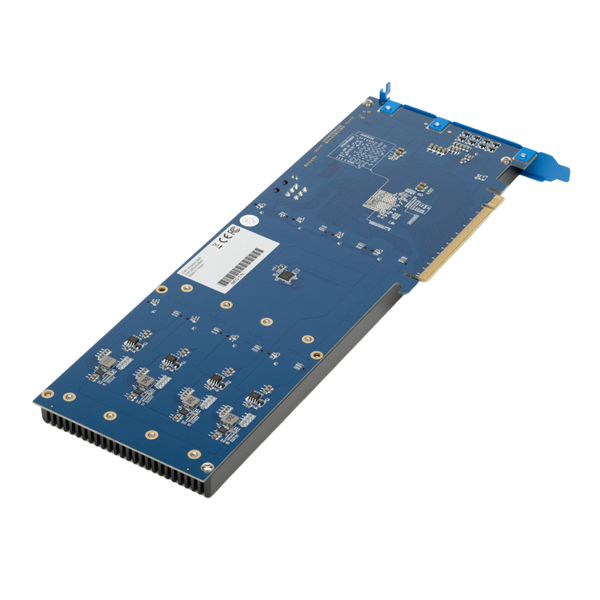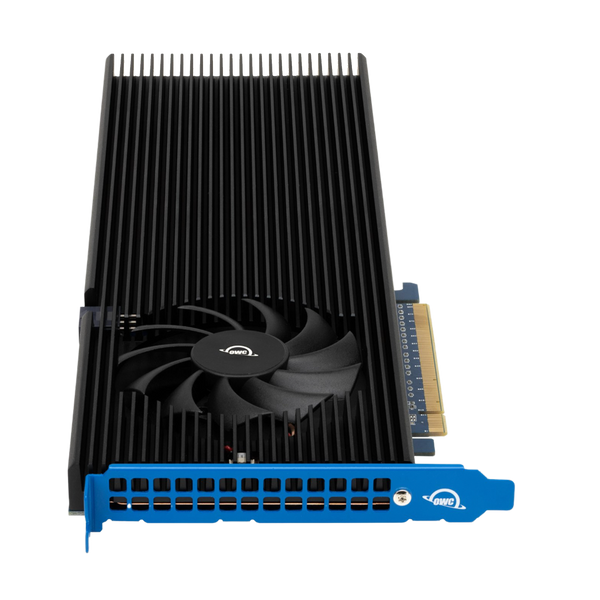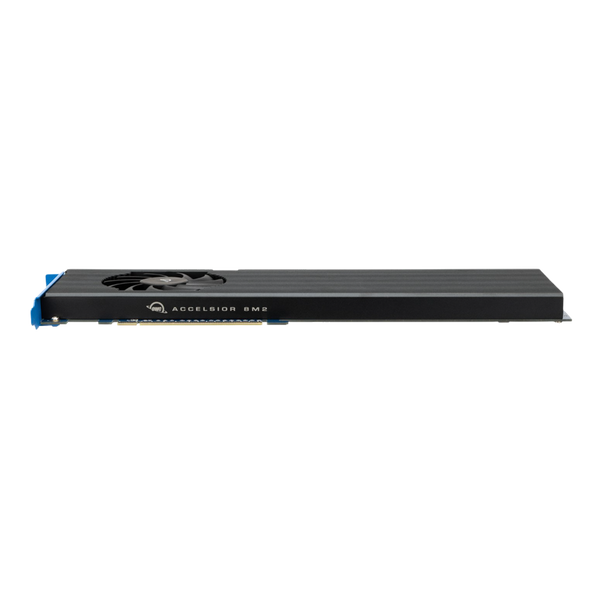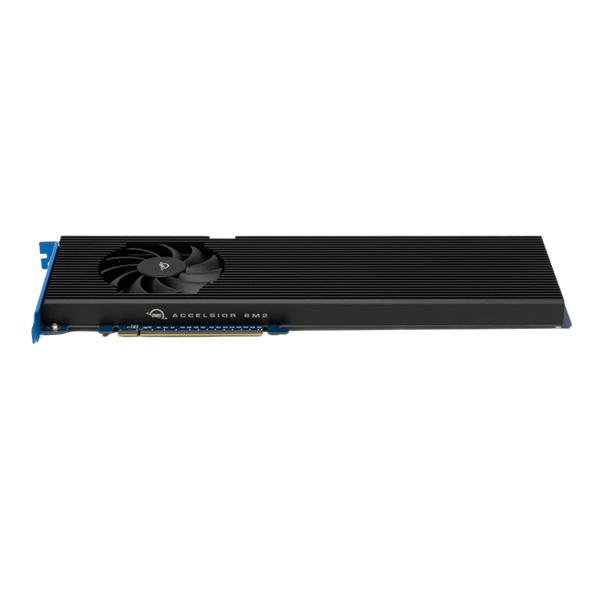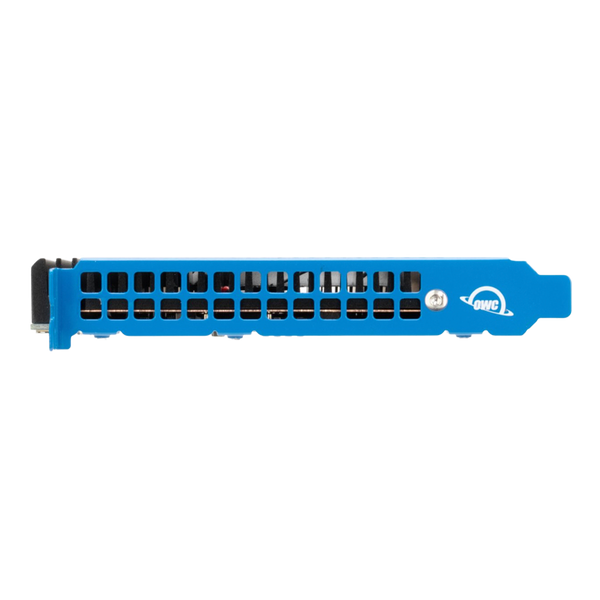 OWC Accelsior 8M2
Whether it leaves you speechless in amazement or uttering colourful phrases, the Accelsior 8M2 can be summed up in one definitive sentence: it's the fastest, highest capacity PCIe SSD in the galaxy.
Obliterates Workflow Bottlenecks
As storage performance innovators, OWC knows that bottlenecks cramp your style. The Accelsior 8M2 was purposely created to be the fastest drive you can use in any workflow. With space for up to eight NVMe M.2 SSDs, Accelsior 8M2 offers scorching speeds over 26,000MB/s and industry leading storage capacity. Now you have the overhead to go faster, process more, and save almost limitlessly.
Unlimited Possibilities
Accelsior 8M2 offers performance gains in so many diverse ways that it lets you create without limits…
Stream and edit multiple high-res video streams without a glitch
Experiment with larger formats and be closer to final work
Edit and store massive photo images and graphics files
Experience faster previews, renders, and processing in VFX programs
Keep page scenery and textures looking sharp and flowing uninterruptedly in virtual reality environments
Ensure augmented reality visualisations look life-like
Effortlessly store and work with multiple production libraries and applications
Run more iterations in DevOps in less time
Quickly offload essential data to cloud archives for more advanced IoT management
When Survival Depends on Reliable Performance
Government agencies, companies, and institutions need the ability to reliably access and quickly analyse enormous data files to make decisions. The Accelsior 8M2 is ideal for "big data" geospatial apps used by emergency management organisations to process real-time conditions, such as natural disasters like a fire or flood. Officials making life-saving decisions can count on the Accelsior 8M2 to deliver actionable data in extreme situations where every second matters.
Reduces Timelines and Project Budgets
Whether you're a Media and Entertainment production pro or a transportation logistics wizard, there's one ever-present formula that affects your success:
Time = Money.
There's a priceless benefit in knowing you can work as fast as possible. Every microsecond saved adds up to money saved for your company. Case in point, a multiple Academy Awards winning film production company is currently using the best available storage technology, but still has workflow limits. Here are some of the company's problems that could be solved by implementing the Accelsior 8M2...
Not enough capacity to store multiple reels, so they have to shuttle reel media between the main ingest drive and slower external storage devices
The time-consuming process of accessing a finished reel on external drives
Struggling with drive space-saving methods like flattening project layers, which requires re-rendering layers you're working in
Not enough speed to view real-time playback. Playback must be viewed in several different modes to determine effects of filters and adjustments
Not enough speed to ensure smooth playback of industry's emerging 8K and 10K 16bit film
Takes Data to the Edge
As a high-performance NVMe-based storage solution, Accelsior 8M2 delivers the consistent low latency data throughput required in edge computing applications such as industrial automation, smart city ecosystems, and smart retail solutions. It feeds CPUs and GPUs huge amounts of data lightning fast for real-time predictive analytics. If your business provides data-driven services to customers, any lag in service could frustrate customers accustomed to instant information and lead to irreparable brand damage. With 60% of storage professionals using NVMe SSDs to process large data sets generated at the edge, Accelsior 8M2 is more than a competitive advantage…it is a best practice.
Includes SoftRAID XT: Easy and Complete Drive Management
SoftRAID XT is the most powerful, intuitive software RAID utility on the market. Multiple RAID options let you select the RAID level that fits you or your project's needs best. If you need maximum volume capacity, optimum drive performance, data protection, or a combination of attributes, SoftRAID has you covered.
Packed with features like drive validation, verification and failure prediction—SoftRAID includes features you simply don't get with hardware RAID. It's like having a data centre on your desktop! From home users looking to protect photos and documents to professionals needing to protect and quickly access projects, SoftRAID is the perfect solution.
Advanced: create RAID 0/1/4/5/1+0 (10) arrays
Protected: SoftRAID monitor constantly watches your disks and alerts you if problems are detected
Validated: volume validation ensures sectors can be read and parity is correct
Certified: checks disks before use to ensure they are safe for data storage
Vigilant: error prediction helps protect against unexpected failure
Universal: move SoftRAID arrays seamlessly between Macs and PCs with built-in OWC MacDrive technology
SoftRAID provides a level of performance that you simply can't get with hardware RAID.
Revolutionary: the fastest drive available for 2019 Mac Pro, Windows or Linux computers
Mind-blowing performance: up to 12,000MB/s real world PCIe Gen 3 speeds today
Future upgradeable: beyond 26,000MB/s speed with PCIe Gen 4 systems
Massive space: add up to eight SSDs for jaw-dropping storage capacity
Bleeding edge design: utilises the full bandwidth of the latest PCIe technology
Easy RAID: create, monitor, and manage RAID arrays with SoftRAID
Advanced RAID capabilities: supports multiple RAID levels and RAID sets for maximum flexibility
Quietly cool: Highly efficient and quiet heat-dissipating design for consistent peak performance
Plug and play: no drivers needed
It's the fastest, highest capacity PCIe SSD in the galaxy.
Compatible with the devices listed below.
Storage Interface

Card Interface

Card Form Factor

Full length; full height

PCIe Lanes

PCIe Slots

PCIe Bandwidth Allocation

Advanced switch: a total of sixteen lanes of bandwidth are available with any single drive using up to four lanes max

PCIe Version

RAID Features

Mac OS Compatability

macOS 10.13 High Sierra
macOS 10.14 Mojave
macOS 10.15 Catalina
macOS 11.x Big Sur
macOS 12.x Monterey

PC OS Compability

Windows 10 32-bit edition
Windows 10 64-bit edition
Windows server 2016

Number of Bays

Drive Bays

8 bays supporting: M.2 drives
Supports NVMe M.2 2280 "M Key" SSDs via (8) PCIe 4.0 x 4 slots

Power/Activity LED

Yes
The LED function of this product will be disabled and not function if used with a 1TB or 2TB OWC Aura Pro IV MVMe M.2 SSD (OWCS3DIG3P4T10), (OWCS3DIG3P4T20)

Dimensions

H: 127 x L: 325 x W: 22 mm

Weight
1 x OWC Accelsior 8M2
1 x Quick Start Guide
1 x SoftRAID XT
1 x Acronis Cyber Protect Home Office 1 Year Subscription
1 x Torx T8S Driver
1 x Phillips PH1 Screwdriver