96GB OWC Matched Memory Upgrade Kit (6 x 16GB) 1333MHz PC3-10600 DDR3 ECC-R SDRAM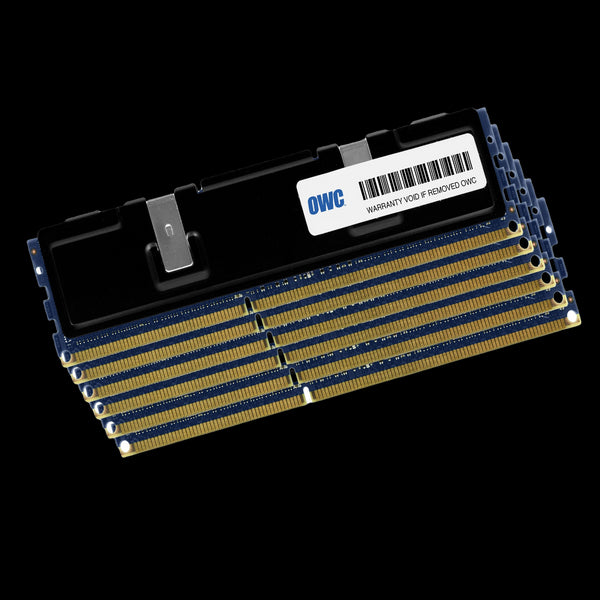 Upgrade the memory in your Mac Pro using the 96GB DDR3 1333 MHz DIMM Memory Kit from OWC / Other World Computing
This memory kit features a total capacity of 96GB, which is made of up of six 16GB modules, with a clock speed of 1333 MHz, a bus speed of PC3-10600, and a 240-pin DIMM form factor. It also operates using 1.5V, has 9-9-9-24 timings, a module bandwidth of 10.6 GB/s, a component configuration of 2048M x 72, is equipped with ECC technology.
By offering ECC (Error Checking and Correcting) technology, this RAM will help your workstation encounter fewer errors that can corrupt data sets and introduce system issues. Additionally, this memory module has an Apple Specified Thermal Sensor, which ensures that the RAM maintains a safe thermal operating range.
Easy to Install
Easily boost the performance of your Mac
Improve the start-up time of your Mac
Improve the speed of your operating system and applications.
Meets and Exceeds Apple Design Specifications.
Warranty Safe Upgrade.
Rigorously in-house lab tested.
OWC Lifetime Replacement Warranty.
Compatible with the devices listed below.
Module Capacity

16GB

Kit Capacity

96GB

Speed

PC3-10600 (1333 MHz)

Memory Type

DDR3

DIMM Type

240-Pin DIMM

Error Correction (ECC)

ECC

Voltage

1.5 V

CAS Latency

CL9
6 x 16GB OWC / Other World Computing DDR3 1333 MHz DIMM Memory Modules (Mac)
Limited Lifetime Warranty