OWC 2TB HDD Mercury Elite Pro Dual Performance RAID Storage Solution (with USB 3.0 and FireWire 800 ports)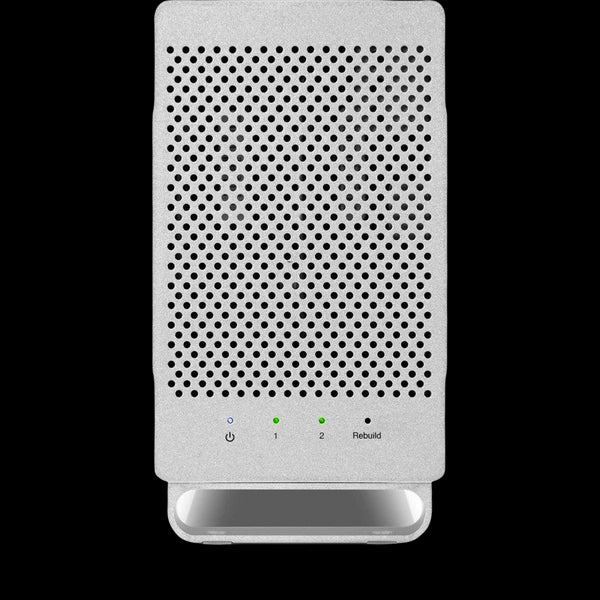 Professional Grade Solution
Mercury Elite Pro Dual is the best dual-drive hardware RAID solution for creative workflows, project archives, and system backups where reliability and versatile performance count. With two fast hard drives, easily configured in multiple RAID modes at the flick of an easy-access switch, Mercury Elite Pro Dual is built to seamlessly integrate with any work environment from high demand production studios to your home office.
Reliable hardware RAID maximizes the full potential of two 3.5" hard drives in the Mercury Elite Pro Dual. It comes configured in high-speed RAID 0 mode for the maximum sustained throughput from your drives. With speeds up to 388MB/s, that's fast enough for HD video workflows. Configure the Mercury Elite Pro Dual in RAID 1 mode for the extra security of mirrored data, or use it as a single span of the two drives or two independent disks.
Mercury Elite Pro Dual features both high speed USB 3.0 and dual FW800 ports to offer the connectivity and versatility to work with your current equipment set-up. A second-generation, free-flowing brushed-aluminum chassis with high-performance fan delivers cool, quiet operation. In addition, drive activity LEDs give you an instant snapshot of the status of your RAID, and intelligent power management conserves energy and reduces wear by automatically spinning down the drives when inactive.
Download product data sheet
USB 3.0 and dual FireWire 800 connectivity
Aluminum enclosure with low decibel fan
Ships in RAID 0 for the fastest out-of-the-box performance
Supports RAID 0, 1, Span and Independent configurations
OWC 3 Year Enclosure Warranty
Software Requirements

USB 3.0

OS X 10.6.8 or later
Windows XP or later
Linux Kernel v. 2.6.31 or later

FireWire 800

OS X 10.2 or later
Windows XP or later
Linux Kernel v. 2.6.31 or later

Hardware Requirements

Minimum

Mac or PC featuring USB 2.0 or FireWire 800 interface

Recommended (Best Performance)

Mac or PC featuring USB 3.0 interface

Bootability

USB 3.0 / 2.0: Any Mac that supports booting via USB
Any Mac that supports booting via FireWire 800
Boot Camp volumes on this device cannot be used as OS X Startup Disks.

Interface (Chipset)

(1) USB 3.0 (JMicron JMS562)
(2) FireWire 800 (JMicron JMB355)

Standard Mechanism

2 x 1.0TB* Toshiba/HGST Deskstar 7K1000.D Hard Disk Drives
*1GB = 1,000,000,000 bytes. Total accessible capacity varies depending upon operating environment (typically 5-10% less). The actual total capacity will depend on your own defined file settings/preferences.

RAID Modes Supported

Hardware
RAID 0, 1, SPAN, and Independent drive mode

Initial Configuration

RAID 0
Included Drive Guide software will format the drive for either OS X or Windows

Power Supply

External UL-listed universal auto-switching
AC input: 100 ~ 240V, 50/60Hz
DC output:, 12V @ 6A

Environment

Environmental (Operating)

Temperature (°F) 41° — 107°
Temperature (°C) 5° — 42°

Environmental (Non-Operating)

Temperature (°F) 40° — 149°
Temperature (°C) 40° — 65°

Height

Width

Length
OWC Mercury Elite Pro Dual Performance RAID Soution
0.6 meter (24 in) USB 3.0 cable (standard-A to standard-B)
0.3 meter (12 in) 1394B FireWire 800 Cable (9-Pin to 9-Pin)
External power supply and power cable
Utility software bundle

Intech® Hard Disk SpeedTools
Utilities™ OEM for Mac OS X 10.4
ProSoft Engineering® Data Backup 3 for Mac OS X 10.4 or later
NovaStor NovaBACKUP® for Windows 7
Over 1.5GB of freeware, shareware, and public domain software
3 Year OWC Solution Warranty