24TB HDD OWC Mercury Elite Pro Quad 4-Drive Storage Solution with USB3.1 Gen2 Chipset with USB-C Port and SoftRaid XT - Discontinued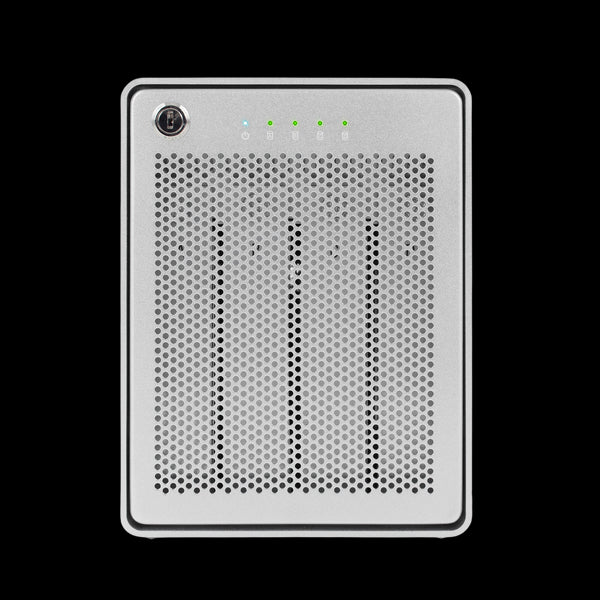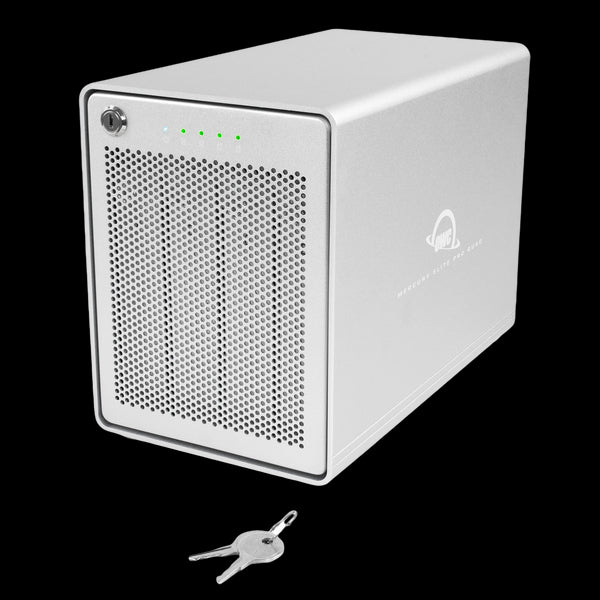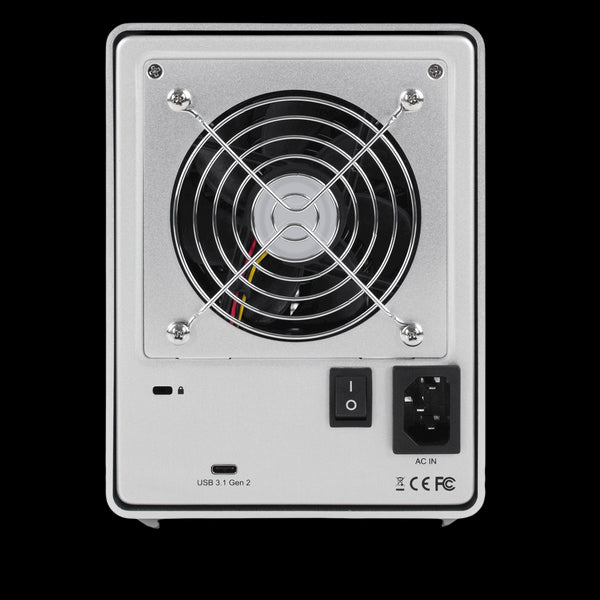 OWC Mercury Elite Pro Quad External Storage Solution
Designed to put the power of choice in your hands, the OWC Mercury Elite Pro Quad packs an unprecedented combination of USB connectivity, universal drive bays, and advanced SoftRAID capabilities into a whisper-quiet aluminum enclosure. Whatever your workflow needs, the Mercury Elite Pro Quad has the flexibility to take your storage capacity, performance, and data security to a whole new level.
The Flexibility of USB-C
The Mercury Elite Pro Quad's powerful USB-C interface delivers 10Gb/s USB 3.1 Gen 2 bandwidth and works with any USB-C or Thunderbolt 3 equipped Mac or Windows PC. Simply connect the Mercury Elite Pro Quad via the included USB-C cable to experience next-level performance. If your computer doesn't feature USB-C connectivity, the included USB-C to USB-A cable brings backward compatibility for machines with legacy USB ports.
Capacity without Compromise
Compatible with 2.5" and 3.5" drives, the Mercury Elite Pro Quad's four universal drive bays let users pack up to a massive 48TB of storage. With this level of capacity and drive flexibility, you will not have to compromise when it comes to your storage.
Speed, Storage, and Security with SoftRAID
The Mercury Elite Pro Quad features advanced RAID capabilities, letting you choose the best option for your workflow. Whether you want massive capacity through a single large array, need maximum performance up to 947MB/s, or redundancy to keep your data secure, the Mercury Elite Pro Quad gives you the power of choice with OWC's proprietary SoftRAID engine or Windows-supported RAID modes. The Mercury Elite Pro Quad is also available in a RAID-ready model so you can install the RAID software of your choice.
Designed for Professionals by Professionals
Every detail was considered when designing the Mercury Elite Pro Quad. Built with a heat-dissipating aluminum enclosure, a whisper-quiet fan, and vibration-absorbing feet, the Mercury Elite Pro Quad runs cool and quietly, making it ideal for noise-sensitive environments. Front-facing LEDs provide an instant drive-activity snapshot, while the front panel access lock keeps your drives safe. You can even secure the entire drive with the rear-mounted Kensington compatible lock slot. On top of that, drive-equipped models undergo OWC's multi-hour drive "burn-in" performance certification procedure to ensure that your drive arrives operating properly and ready to perform.
Reliability and Support You Can Count On
Like all OWC drives, the Mercury Elite Pro Quad is built to the highest standards of reliability and performance. Because 100% reliability is always the goal, Mercury Elite Pro Quad is rigorously quality tested, and backed by an OWC 3 year limited warranty.
Buyers note: RAID 4/5/1+0 (10) are currently Mac only. Only RAID 0 and RAID 1 are supported by Windows 10/PC.
Works with all USB systems, Thunderbolt 3 compatible
Up to 947MB/s
SoftRAID engine included
Four universal drive bays for 2.5" and 3.5" drives
Make drive juggling a thing of the past. The OWC Mercury Elite Pro Quad was created with four drive bays to provide massive amounts of storage from a single USB-C connection along with RAID configuration flexibility.
Software Requirements

Mac OS X 10.6 or later
Windows 7 or later

Hardware Requirements

Mac or PC featuring a USB Type-A or Type-C port
For the best performance (10Gbs) a host with a USB 3.1 Gen 2 Type-C port is required

Interface (Chipset)

USB 3.1 Gen 2 (VLI VL820)

Max Transfer Rate

USB 3.1 Gen 2: 10 Gb/s (or 1250 MB/s)

JBOD / RAID Support

JBOD: Utilize each of the four drives independently
RAID: Use the included SoftRAID XT
RAID: Use the included SoftRAID XT software RAID to setup the Mercury Elite Pro Quad for RAID 0, 1, 4, 5, and 0+1

Initial Configuration

RAID 5

Kensington Lock Slot

Yes

Standard Mechanism

4 x 6TB HGST Ultrastar 7K6000 SATA Hard Disk Drives

Read Performance

Up to 947MB/s

LED

Yes (Power and disk activity)

Plug and Play

Yes

Power Supply

UL-listed universal auto-switching
AC input: 100 - 240V, 50/60 Hz
DC output: 12V, 6.25A

Dimensions

Height: 18.5 cm (7.3 in)
Length: 24.0 cm (9.4 in)
Width: 13.5 cm (5.3 in)

Weight

3.6 kg (7.9 lbs)
1 x 24TB OWC Mercury Elite Pro Quad
1 x USB-C to USB-C cable
1 x USB-C to USB-A cable
1 x External power cable
2 x Key for front panel
1 x Mercury Elite Pro Quad User Guide
1 x SoftRAID XT User Guide
3 Year OWC Limited Warranty