OWC 16TB HDD Mercury Elite Pro Quad RAID 4-Drive Storage Solution with USB3.1 Gen2 Chipset with USB-C Port and SoftRaid XT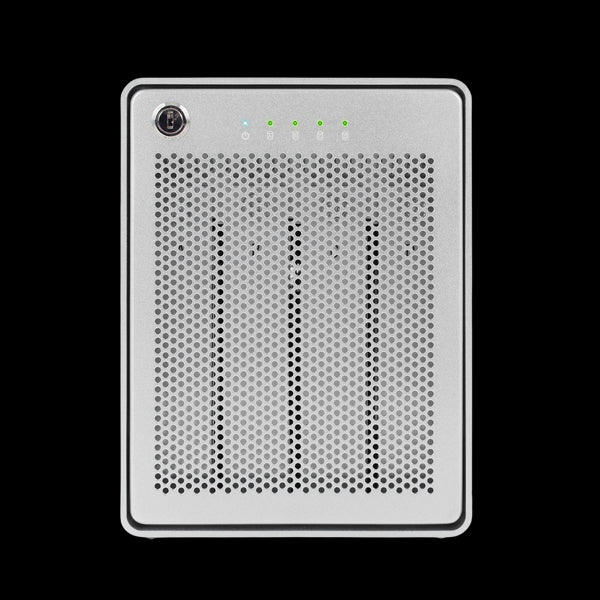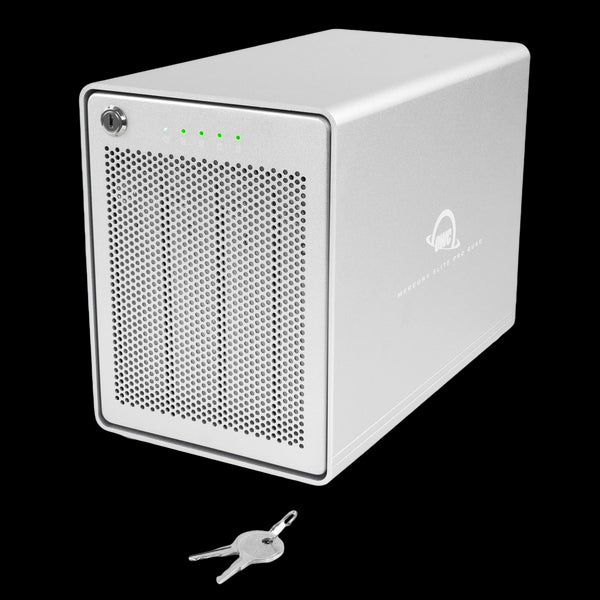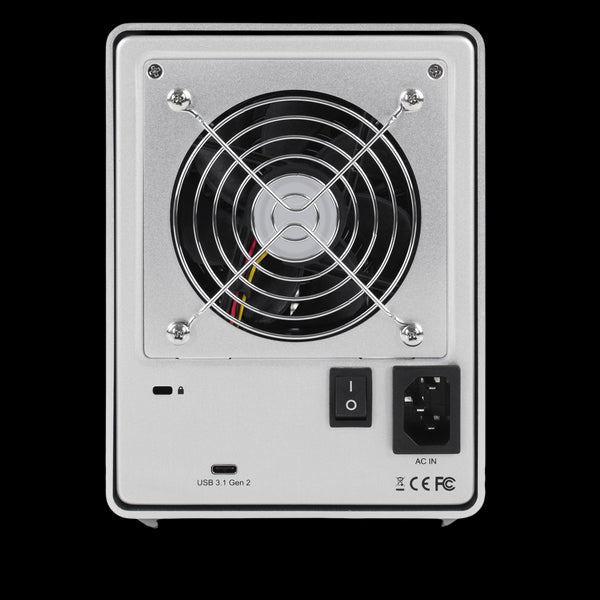 OWC Mercury Elite Pro Quad External Storage Solution
Designed to put the power of choice in your hands, the OWC Mercury Elite Pro Quad packs an unprecedented combination of USB connectivity, universal drive bays, and advanced SoftRAID capabilities into a whisper-quiet aluminium enclosure. Whatever your workflow needs, the Mercury Elite Pro Quad has the flexibility to take your storage capacity, performance, and data security to a whole new level.
The Flexibility of USB-C
The Mercury Elite Pro Quad's powerful USB-C interface delivers 10Gb/s USB 3.1 Gen 2 bandwidth and works with any USB-C or Thunderbolt 3 equipped Mac or Windows PC. Simply connect the Mercury Elite Pro Quad via the included USB-C cable to experience next-level performance. If your computer doesn't feature USB-C connectivity, the included USB-C to USB-A cable brings backward compatibility for machines with legacy USB ports.
Capacity Without Compromise
Compatible with 2.5" and 3.5" drives, the Mercury Elite Pro Quad's four universal drive bays provide users massive storage possibilities. With this level of capacity and drive flexibility, you will not have to compromise when it comes to your storage.
SoftRAID: RAID Made Easy
Harness the full capability of your OWC drive array with the included SoftRAID XT, the most powerful, intuitive RAID management software on the market for macOS and Windows. SoftRAID's RAID creation and management technology has been finely tuned to perfection with over 20 years of development to provide rock solid protection of your data and optimise drive performance.
Beyond Hardware RAID
SoftRAID provides a level of storage performance that you simply can't get with hardware RAID. SoftRAID gives you increased power and control over your RAID drives and disks that hardware RAID can't deliver and doesn't lock you into technology that you can't upgrade or expand.
Designed for Professionals by Professionals
Every detail was considered when designing the Mercury Elite Pro Quad. Built with a heat-dissipating aluminium enclosure, a whisper-quiet fan, and vibration-absorbing feet, the Mercury Elite Pro Quad runs cool and quietly, making it ideal for noise-sensitive environments. Front-facing LEDs provide an instant drive-activity snapshot, while the front panel access lock keeps your drives safe. You can even secure the entire drive with the rear-mounted Kensington compatible lock slot. On top of that, drive-equipped models undergo OWC's multi-hour drive "burn-in" performance certification procedure to ensure that your drive arrives operating properly and ready to perform.
Reliability and Support You Can Count On
Like all OWC drives, the Mercury Elite Pro Quad is built to the highest standards of reliability and performance. Because 100% reliability is always the goal, Mercury Elite Pro Quad is rigorously quality tested, and backed by an OWC 3 year limited warranty.
Works with all USB systems, Thunderbolt 3 compatible
Up to 947MB/s
SoftRAID engine included
Four universal drive bays for 2.5" and 3.5" drives
Make drive juggling a thing of the past. The OWC Mercury Elite Pro Quad was created with four drive bays to provide massive amounts of storage from a single USB-C connection along with RAID configuration flexibility.
Total Capacity

Total Solution Cache Size

Standard Mechanism

4 x 4TB Toshiba MD04ACA Series 7,200RPM Hard Disk Drive with 128 MB cache

Hot Swap Support

Chipset

USB 3.1 Gen 2: 1 x Via Labs VLI-822
SATA: 4 x ASMedia ASM-235CM

Drive Interface

Rotational Speed

Data Transfer Rate (Maximum)

USB 3.2 Gen 2 : up to 10 Gb/s (or 1250 MB/s)

Plug and Play

RAID Capable

Default RAID Level

RAID Levels Supported

RAID 0, RAID 1, JBOD, RAID 0+1, RAID 4, RAID 5

RAID Features

Mac OS Compatibility

Mac OS X 10.6 Snow Leopard
Mac OS X 10.7 Lion
Mac OS X 10.8 Mountain Lion
OS X 10.9 Mavericks
OS X 10.10 Yosemite
OS X 10.11 El Capitan
macOS 10.12 Sierra
macOS 10.13 High Sierra
macOS 10.14 Mojave
macOS 10.15 Catalina
macOS 11.x Big Sur
macOS 12.x Monterey
macOS 13.x Ventura

PC OS Compatibility

Windows 7 32-bit Edition
Windows 7 64-bit Edition
Windows Home Server 2011
Windows 8 32-bit Edition
Windows 8 64-bit Edition
Windows 8.1 32-bit Edition
Windows 8.1 64-bit Edition
Windows Server 2012
Windows 10 32-bit Edition
Windows 10 64-bit Edition
Windows Server 2016
Windows 11

Host Port Requirements

USB (USB-C or USB-A) or Thunderbolt (USB-C) port

Other Requirements

SoftRAID XT works with macOS 10.12 or later and Windows 10 or later. SoftRAID is licensed per computer. The SoftRAID serial number will work with both Mac and Windows but can only be active on one computer at a time. Additional seats can be purchased. RAID 4/1+0 10x are currently Mac only at this time

Power Supply

Internal UL-listed universal auto-switching power supply

AC Input

DC Output

Wattage

External Power Adapter

Number of Bays

Device Ports

1 x host port - USB 3.2 Gen 2 type-C up to 10Gb/s (1250MB/s) - USB 2.0/3.0 backwards compatible

Cooling

1 x 92mm temperature-controlled cooling fan

Certifications

Dimensions

H: 185 x L: 240 x W: 135 mm

Weight
1 x OWC Mercury Elite Pro Quad External Storage Solution
1 x 1.0 m USB-C to USB-C Cable
1 x 1.0 m USB-C to USB-A Cable
1 x External Power Cable
2 x Security Keys for Front Panel Lock
1 x Quick Start Guide
1 x Assembly Manual & User Guide
1 x OWC SoftRAID XT Software Bundle
1 x Quick Start Guide for OWC SoftRAID XT
1 x Manual & User Guide for OWC SoftRAID XT
1 x Acronis Cyber Protect Home Office (1 Year Subscription)